E-Book
Email Marketing Templates for E-Commerce: Revenue-Driving Email Flows
A Guide to Getting the Most Bang for Your Buck from Automated Email Flows
Download Now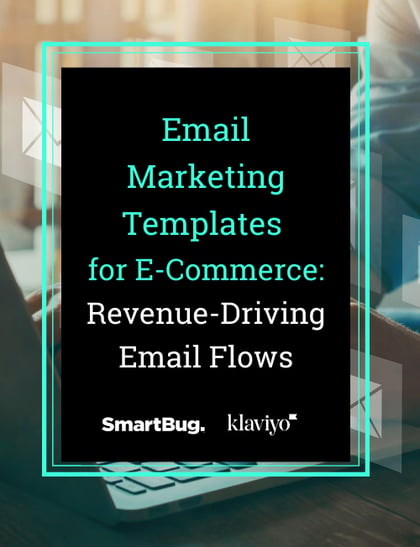 In this e-book, we'll cover how to build your list of consumers, indoctrinate your audience to your brand, nurture your relationship with your subscribers, and capture revenue through automated email flows.
Along the way, we'll share methods for growing your email marketing audience; effective strategies for the Welcome Flow, Browse Abandonment Flow, and Checkout Abandonment Flow; and also tactics for SMS collection in automated flows.
After you're done reading this e-book, you'll be able to:
Understand how to collect emails and grow your list
Nurture your relationship with your subscribers
Capture revenue through automated flows
Increase engagement and drive higher lifetime value with SMS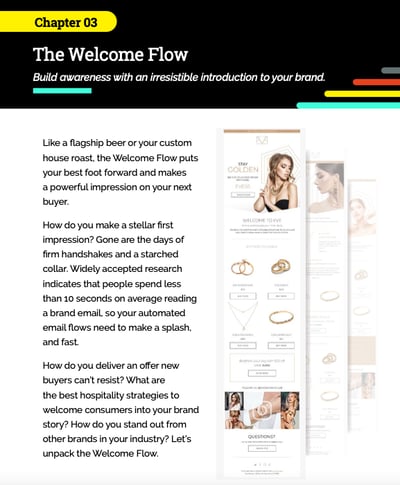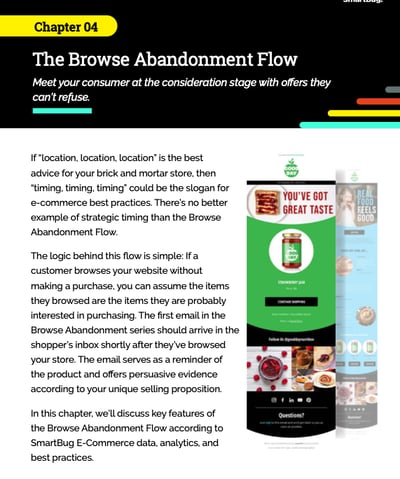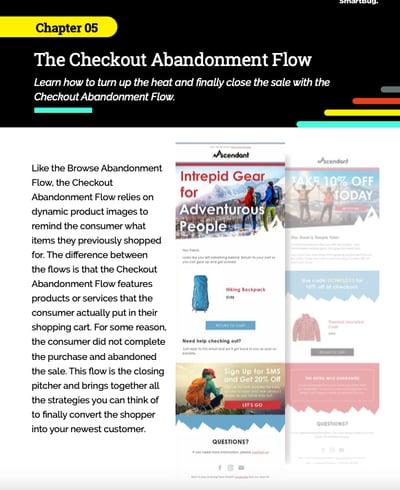 E-commerce makes shopping more personalized than ever before. By first growing your list of subscribers then building your branded email templates, you will be well on your way as a revenue-generating e-commerce store. Branded and thoughtfully designed template blocks enable you to create compelling automated flows that consistently deliver your brand and offerings to your audience.
This email marketing for e-commerce guide provides you with effective strategies and templates specific to:
The Welcome Flow
The Browse Abandonment Flow
The Checkout Abandonment Flow
Why is email marketing important for e-commerce?
Email marketing is an essential tool for e-commerce businesses to drive traffic to their website, retain customers, and increase sales. Email marketing helps e-commerce businesses:
Build brand loyalty: Email marketing nurtures the relationship between you and your customers, keeping your brand at the forefront of their minds. By providing them with relevant content and personalized offers, you can keep them coming back time and again.
Drive conversions: Email marketing is an effective way to convert subscribers into customers. You can promote new arrivals to subscribers and offer them exclusive deals and discounts, prompting them to make a purchase.
Increase website traffic: Your email subscribers are highly engaged and interested in your brand, making them more likely to click through to your website and make a purchase.
Provide valuable data: You can use email marketing to gather valuable data on your subscribers' behaviors, such as what they click on, what they're interested in, and what they're not into.
How do you increase revenue with email marketing?
There are many effective ways to increase revenue with email marketing. Here are a few key strategies to consider:
Segment your email list: When you segment your email list based on user behavior, preferences, and buying habits, you can send targeted and relevant emails that are more likely to lead to sales. For example, you might send different emails to first-time shoppers, loyal customers, and customers who have abandoned their shopping carts.
Use dynamic content: Dynamic content allows you to personalize emails based on the recipient's location, device, previous purchases, and other data. This makes your emails more engaging and increases the likelihood of conversion.
Optimize your subject lines: The subject line is often the first thing readers see in their inbox, so it's important to make sure it's attention-grabbing and relevant. Use A/B testing to experiment with different subject lines and see which ones lead to the highest open rates.
Include clear calls to action (CTAs): Your emails should always include clear and compelling CTAs that encourage readers to take a specific action, such as making a purchase or visiting your website. Use actionable language and make sure the CTA stands out visually.
Provide exclusive offers and discounts: One effective way to drive sales with email marketing is to offer subscribers exclusive deals, discounts, and promotions. This will make them feel valued and encourage them to make a purchase.
By implementing these strategies and continually testing and optimizing your email campaigns, you can increase revenue and drive growth for your e-commerce business.
What is a welcome series email flow?
A welcome series email flow, also known as a welcome automation, is a sequence of emails sent to new subscribers after they sign up for an email list. The purpose of a welcome series is to introduce the subscriber to the brand and build trust with them. It typically consists of three emails: one introducing the brand and its products or services, another providing more information about the brand, and a third offering discounts or other incentives.
What is browse abandonment email flow?
Browse abandonment emails are automated messages sent to email subscribers who viewed products on your website but never placed an item in their shopping cart. This type of email flow is designed to remind customers of items they have viewed and encourage them to complete their purchase.
What is checkout abandonment flow in email marketing?
Checkout abandonment flow in email marketing is a process of engaging customers who have abandoned their carts. It is an automated email campaign that is triggered when a customer adds items to their cart but does not complete the purchase. The goal of this type of email flow is to remind the customer of the item(s) they left behind and encourage them to complete their purchase. Additionally, it can be used as an opportunity to showcase credibility by including reviews and testimonials from other customers.
What is SMS marketing?
SMS marketing, also known as text message marketing, is a tactic that involves using text messages to communicate promotional messages, updates, and offers to customers and subscribers. It's a form of direct marketing that allows businesses to reach customers in real time via mobile devices.
Why is SMS marketing important?
SMS marketing is important for several reasons, such as:
High open rates: SMS messages have a high open rate of around 98 percent. This means that the vast majority of people who receive text messages will read them almost immediately, which makes SMS marketing a highly effective way to reach customers and deliver your message quickly.
Instantaneous delivery: Text messages are usually delivered almost instantly, making texting an excellent communication tool during emergency situations when immediate action is required.
Increased engagement and response rates: SMS marketing can lead to higher response rates compared to other channels such as email. This is because people are more likely to engage with text messages and are more likely to respond to messages that are relevant and personalized.
Easy tracking: SMS marketing is relatively easy to track, which can help marketers gain insights into which campaigns are successful and which ones need improvement. This means that businesses can optimize their campaigns in real time for maximum effectiveness.
Cost-effectiveness: Compared to other marketing methods such as advertising or direct mail, SMS marketing is relatively cheap and cost-effective, making it an attractive option for businesses with limited marketing budgets.
Overall, SMS marketing is an important tool for businesses to engage with customers, build brand loyalty, and drive sales. With high open rates and quick delivery times, SMS marketing offers significant advantages over other marketing channels. However, it's crucial to follow best practices and ensure that SMS marketing campaigns are relevant and personalized and provide value to the recipient.

Pro tip: Companies create unique customer experiences and relationships when they use SMS and email marketing in tandem.
How do you implement SMS marketing?
Here are the steps to implement SMS marketing:
Obtain your customers' consent: Before you start sending text messages, you need to get your customers' consent. This can be done through opt-in forms or email campaigns or by asking customers to text a specific keyword to a phone number.
Define your goals and create a strategy: Identify your business goals and create a strategy that aligns with them. Determine what kind of content to send, how frequently to send messages, and what tone to use.
Choose a reliable SMS provider: Choose a reputable and reliable SMS provider that offers a platform that meets your business needs and budget. Our personal favorite is Klaviyo.
Build your SMS list: Gather your list of subscribers and segment them based on their behavior, previous purchases, or preferences.
Create engaging content: SMS messages should be short, personalized, and relevant to the recipient. Use clear and compelling language and include calls to action.
Test and optimize your campaigns: Use A/B testing to experiment with different elements of your campaigns, such as the timing, frequency, and content of messages.
Continuously optimize and refine your campaigns to improve effectiveness.
Measure your results: Track metrics such as open rates, click-through rates, and conversion rates to gain insights into how your campaigns are performing and make data-driven decisions.
How will you use my personal information?
We may use or disclose the personal information we collect for one or more of the following business purposes: To provide you with information, products, or services that you request from us. To provide you with email alerts, event registrations, and other notices concerning our products, services, events, and news that may be of interest to you. To carry out our obligations and enforce our rights arising from any contracts entered into between you and us, including for billing and collections. To carry out our obligations and enforce our rights arising from any contracts entered into with our clients. To improve our website and present its contents to you. For testing, research, analysis, and product development. As necessary or appropriate to protect the rights, property, or safety of us, our clients, or others. To respond to law enforcement requests and as required by applicable law, court order, or governmental regulations. As described to you when collecting your personal information or as otherwise set forth in the CCPA.

We will not collect additional categories of personal information or use the personal information we collected for materially different, unrelated, or incompatible purposes without providing you notice.
Grow Your Bottom Line with Compelling Email and SMS Marketing
Fill out the form below and add this PDF to your Google Drive.