Guide
Creating a Content Marketing Strategy in HubSpot
Develop an effective content strategy, from goal setting to content promotion to lead follow-up, with tips from HubSpot Academy's best practices.
Download Now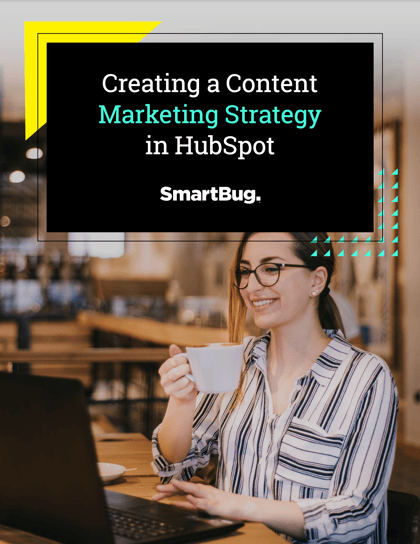 When it comes to inbound marketing, we all know Google calls the shots. This can make creating content that meets Google's criteria and attracts the right prospects feel like trying to hit a moving target. To improve your odds of hitting the Google algorithm sweet spot, you need a cohesive content marketing strategy that seamlessly applies tactics such as SEO and link building to content such as blogs, e-books, and pillar pages that you can leverage via Google to attract new leads.
Creating a content marketing strategy that appeals to Google and attracts the right prospects is challenging. SmartBug's content marketing guide provides a comprehensive overview of the process, from goal setting to execution to results gathering. The guide covers everything from research and HubSpot setup to content promotion and lead follow-up, and it includes tips from HubSpot Academy's best practices. With this guide, marketers can learn how to leverage Google and other tools to create an effective content strategy that helps them reach their goals.
This guide covers:
SMART goals
Content Creation
HubSpot campaign implementation
Promotion strategies
Follow-up campaigns
Appropriate metrics measurement
What is a content marketing strategy?
A content marketing strategy is a plan for creating, publishing, and distributing content with the goal of engaging customers and promoting a business's products or services. It includes a mix of content types (such as blogs, videos, infographics, whitepapers, and e-books), channels (such as social media, email, and search), and tactics (such as SEO, influencer marketing, and paid advertising) to reach and engage the target audience, retain a clearly defined audience, and ultimately, to drive profitable customer action.
How do I create a content marketing strategy?
1. Analyze your audience. Before you create a content marketing strategy, you must understand who your target audience is and what their needs are. This means knowing your buyer personas and, if you don't have personas, developing them. You can do this through surveys, interviews, and focus groups.
2. Set goals and objectives. Once you understand your audience, you need to set goals and objectives that you want to achieve with your content marketing strategy. These should be specific, measurable, achievable, realistic, and time-bound (SMART).
3. Research and plan. Once you have your goals in place, it's time to start researching. Look into the topics that your target audience is interested in and create a list of topics that you could cover.
4. Identify your content strategy. After you've set your goals and performed market research, it's time to decide what type of content you'll create and how you'll deliver it. This includes deciding on topics, formats, channels, and frequency.
5. Create a plan. Once you've identified your content strategy, you need to create a plan that outlines specific tasks, deadlines, and resources needed to meet your goals.
6. Measure and optimize. You should regularly measure the performance of your content marketing strategy to ensure it's meeting your goals. If it's not, you can make adjustments to optimize its performance.
How can I be an effective content marketing producer?
1. Create quality content. Quality is key. Make sure the content you create is interesting, informative, and relevant. Don't be afraid to experiment with different types of content, such as video, audio, and visuals.
2. Optimize for SEO. SEO is one of the most important aspects of content marketing. Make sure you optimize your content for keywords that your target audience is likely to search for.
3. Tap into project management. This is the process of planning, organizing, and managing the resources and activities needed to achieve your content marketing goals. It involves setting clear objectives, defining tasks and timelines, assigning roles and responsibilities, and monitoring progress. Project management helps ensure that your campaigns are completed on time and that they meet their objectives.
Why is content marketing important?
Content marketing is important because it helps businesses and brands build relationships with their target audience. It enables them to educate their audiences about their products, services, and values and to build trust and loyalty. By providing valuable content, businesses can create an engaging experience for their customers and prospects, which can lead to increased sales and customer loyalty. Content marketing also helps businesses to increase their visibility and reach and differentiate themselves from competitors.
How will you use my personal information?
We may use or disclose the personal information we collect for one or more of the following business purposes: To provide you with information, products, or services that you request from us. To provide you with email alerts, event registrations, and other notices concerning our products, services, events, and news that may be of interest to you. To carry out our obligations and enforce our rights arising from any contracts entered into between you and us, including for billing and collections. To carry out our obligations and enforce our rights arising from any contracts entered into with our clients. To improve our website and present its contents to you. For testing, research, analysis, and product development. As necessary or appropriate to protect the rights, property, or safety of us, our clients, or others. To respond to law enforcement requests and as required by applicable law, court order, or governmental regulations. As described to you when collecting your personal information or as otherwise set forth in the CCPA.
We will not collect additional categories of personal information or use the personal information we collected for materially different, unrelated, or incompatible purposes without providing you notice.
Download the guide and start implementing your content marketing strategy!
Fill out the form below and get access today.