Buyer Persona Kit
Buyer Persona Kit for Your Senior Living Company
Let these tools guide you through persona creation and content mapping to better understand your ideal customers.
Download Now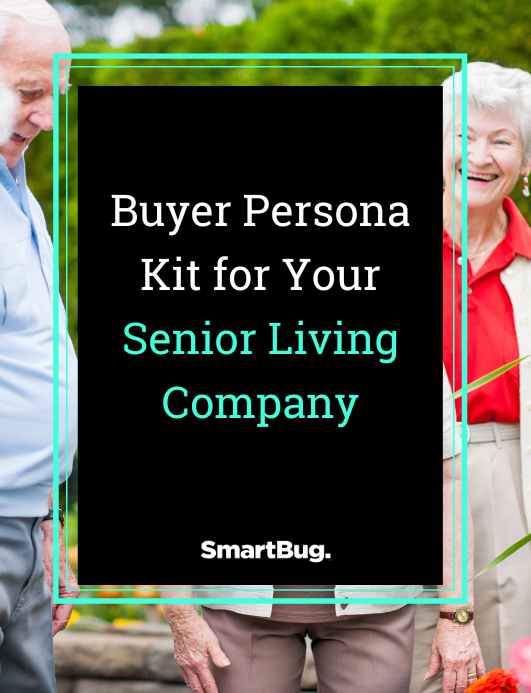 Who benefits from the services your senior living company provides? How well do you know your customers? The value of buyer personas goes beyond marketing. Having a better understanding of who your company should be targeting enables you to provide relevant content that addresses the pain points of your personas and generates more qualified leads.
Personas allow you to identify where your customers are on the internet, so you can meet them there. They can guide content development, because when you understand your customers' goals, you can create content to help them accomplish what they are trying to achieve and overcome obstacles along the way. Persona-driven content can attract the most valuable visitors, leads, and customers to your business.
Whether you're starting from scratch or evaluating existing customer demographics, this kit has everything you need:
Detailed sample templates for common personas in your industry

Questions to walk you through the persona creation process step by step
A guide for mapping content specifically for senior living buyer personas
Helpful information about the role of content in the Buyer's Journey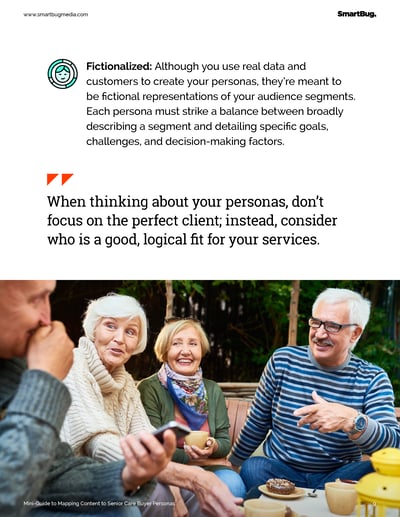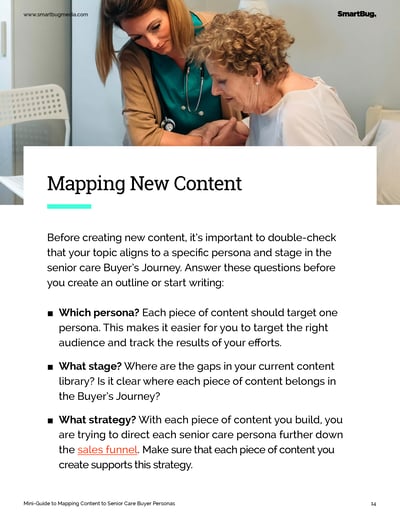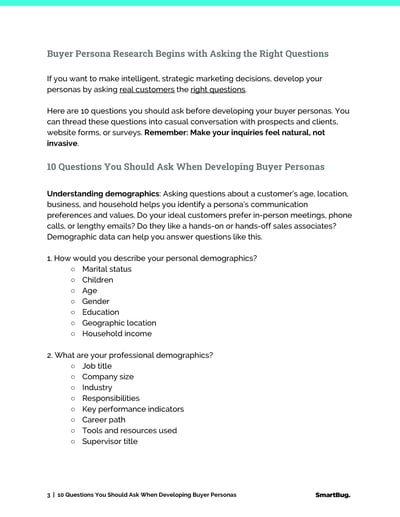 Resources you will find in this kit:
1
Step One: Buyer Persona Interviews
10 Questions You Should Ask When Developing Buyer Personas
Here are 10 questions you should ask to help guide your conversations and create a rock-solid representation of your ideal customers. Use this worksheet to begin your buyer persona development, and learn how asking the right questions can help you make sure you're getting the right messaging in front of the right audience.
This worksheet lives in Google Docs.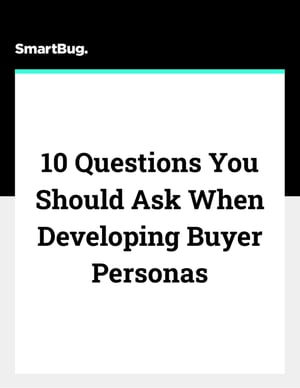 2
Step Two: Buyer Persona Creation
Senior Living Buyer Persona Template
This template includes two buyer persona samples for a senior living company, so you can see what the slide looks like with actual content in place and how your buyer persona interviews can define your target audience into a clean persona.
This template lives in Google Slides.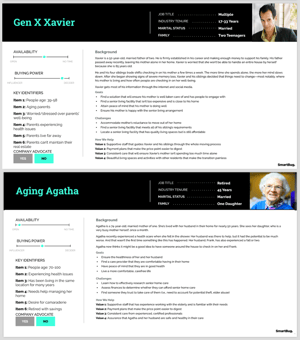 3
Step Three: Create and Map Content for Your Buyer Personas
Mini Guide to Mapping Content to the Senior Living Buyer's Journey
Each buyer persona has unique triggers that cause them to look for a solution, as well as different features or services they're evaluating during the buying process. This guide helps you map content to each of your buyer personas, to ensure that your content focuses on the customer, not on you. It allows your business to become a trusted adviser for all things senior care so that when a prospect is ready to hire a provider, they turn to your organization.
This guide is a downloadable PDF.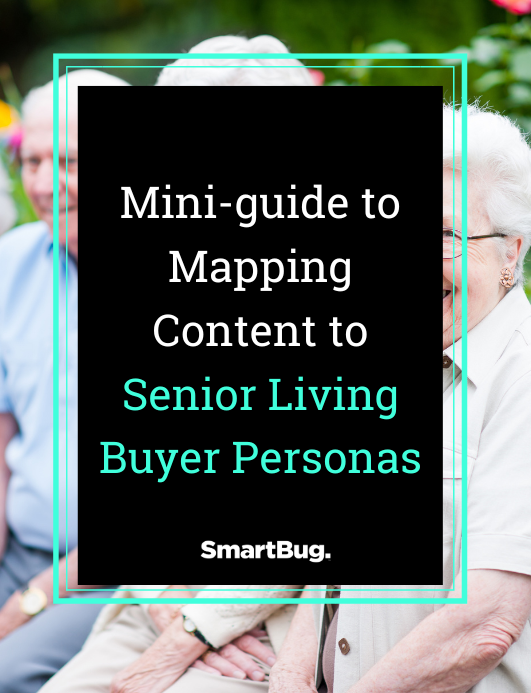 What is a buyer persona?
A buyer persona is a fictional representation of an ideal resident based on market research and real data about your existing residents. Buyer personas help senior living communities make decisions about their future residents, understand their residents' wants and needs, and develop tailored marketing strategies to invite new residents and their families into the community.
Why do I need a buyer persona for senior living?
The senior living market is unique and complex. It is important to have a deep understanding of target residents' and their families' needs, wants, and interests to effectively market to them. This understanding will help you create a marketing strategy that establishes brand recognition and positions your team as experts, helping older adults and their loved ones decide yours is the right senior living community for them.
What should a senior living buyer persona include?
A buyer persona for senior living should include demographic information such as age, income level, location, decision influencers, and lifestyle. It should also include psychographic information such as interests, values, and motivations. Finally, it should include information about the senior's goals and needs, what their journey toward selecting a community may look like, and their preferred communication methods. By understanding all of this information, senior living communities can create marketing strategies tailored to prospective residents and guide them along their journey to selecting the senior living community that meets their needs.
How do I create a buyer persona for my senior living community?
STEP 1: Download the Complete Buyer Persona Kit for Your Senior Care Company.
STEP 2: Use the "10 Questions You Should Ask When Developing Buyer Personas" document to decide what questions you would like to answer about your residents.
STEP 3: Start your market research and conduct interviews to answer these questions.
STEP 4: Create at least three different personas using the "Senior Care Buyer Persona Template" template.
STEP 5: Once the personas are created, use the "Mini Guide to Mapping Content to the Senior Care Buyer's Journey" to develop your marketing strategy to target your future residents and their families.
Learn more about how to create a buyer persona with these five steps.
How will a buyer persona help my senior living community market to residents and their families?
A buyer persona will help you understand your future residents' and their families' needs and use that information to develop targeted campaigns, create content that speaks directly to the senior living demographic, and help inform and guide their decision-making process. This content might include, for example, a guide to different levels of memory care or a quiz to help you decide if assisted living or independent living is right for you.
How can I use buyer personas to implement a marketing strategy?
Once you have identified your ideal residents, you can use this information to create campaigns and content that are tailored to their needs. You can use this data to develop targeted messaging, optimize your website and marketing materials for the residents and their families, and create targeted advertisements.
How will you use my personal information?
We may use or disclose the personal information we collect for one or more of the following business purposes: To provide you with information, products, or services that you request from us. To provide you with email alerts, event registrations, and other notices concerning our products, services, events, and news that may be of interest to you. To carry out our obligations and enforce our rights arising from any contracts entered into between you and us, including for billing and collections. To carry out our obligations and enforce our rights arising from any contracts entered into with our clients. To improve our website and present its contents to you. For testing, research, analysis, and product development. As necessary or appropriate to protect the rights, property, or safety of us, our clients, or others. To respond to law enforcement requests and as required by applicable law, court order, or governmental regulations. As described to you when collecting your personal information or as otherwise set forth in the CCPA.
We will not collect additional categories of personal information or use the personal information we collected for materially different, unrelated, or incompatible purposes without providing you notice.
Ready to unlock the value of your senior living buyer personas?
Fill out the form to download the kit now.