We Hope You Enjoy
How to Write (and Edit Yourself) Like a Rock Star
Want to know what you'll learn before watching? Scroll down.
If you're wondering how you can write better or faster or more concisely, this webinar is for you.
Copy. It's everywhere. It's the backbone of your content marketing plan. It communicates the value of your brand 24 hours a day digitally, it contributes to your search engine ranking, and it can deter or create trust with a visitor in seconds. Simply speaking, your writing can make or break your brand. So how can you write like a rock star and strengthen your brand authority? Start with this tip: Don't ask your readers to bust out their content machete to get through your jungle of words and ideas.
In this tactical webinar presented by SmartBug's Senior Copywriters, we discuss:
How people read online, and how to write for them
Quick tips including what to avoid in your writing
How to pull your visitors in without selling to them
Recorded in February 2019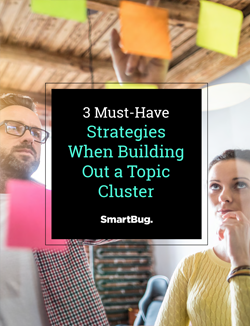 Create a better user experience and improve your rank in organic search with:
3 Must-Have Strategies When Building Out a Topic Cluster
Check It Out