Nice! You're about to learn all about
Diagnosing and Solving SEO Problems
A 4-Part Framework for Overcoming Organic Search Challenges.
Want to know what you'll learn before watching? Scroll down.
Do you ever get stuck trying to solve SEO problems and aren't sure where to start? If you're looking for a simple system for diagnosing and overcoming your SEO problems, this webinar is for you.
In this tactical presentation by SmartBug Senior Marketing Strategist Paul Schmidt, you'll learn:
A 4-part system for diagnosing your SEO challenges
How to use analytics to identify SEO opportunities
Search engine features that your company can take advantage of to stand out in SERPs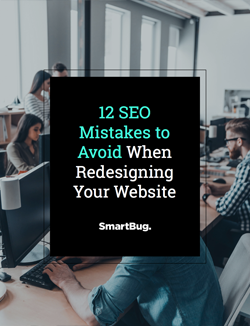 Redesign and launch your new website without losing traffic from search engines with:
12 SEO Mistakes to Avoid When Redesigning Your Website
Check It Out