Template
Product Launch Marketing Plan
Outline your product launch with this robust and strategic plan.
Download for Free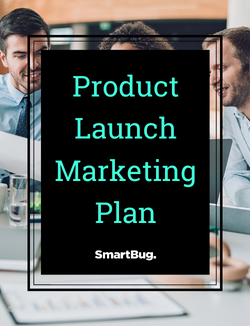 Launching a new product can feel overwhelming, and getting stakeholder buy-in can feel stressful. If you're wondering how to create a product launch marketing plan, you have come to the right place. This template outlines everything you need in the marketing process from planning to post-launch tasks.
You can edit and personalize the template according to your company's needs. Use it to develop a robust and strategic plan to help your team members and stakeholders understand your goals and support them through a successful launch.
This template will provide you with:
An entire spreadsheet to stay organized from start to finish when planning a product launch.
A robust and clear plan for all stakeholders, marketers, writers, and senior management to follow.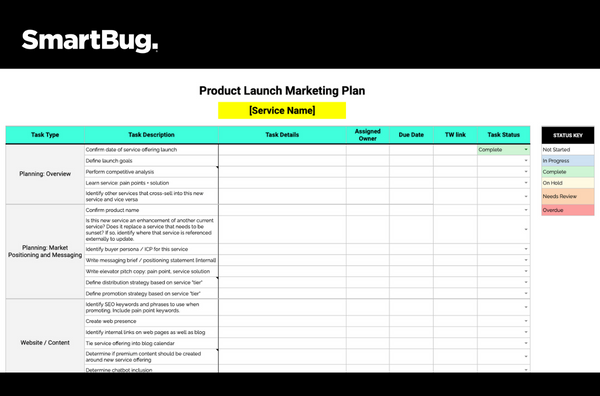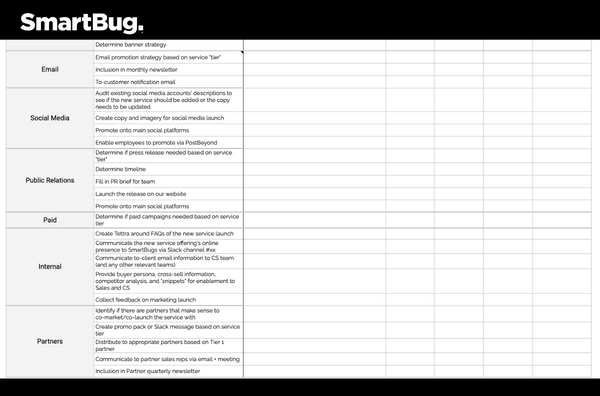 This product launch marketing plan will help you reflect on and develop:
An overview of the plan
Marketing positioning and messaging
Website and content
Email and social media marketing
Public relations
Paid media strategy
Internal processes
Partner marketing opportunities
What should a product launch plan include?
A product launch plan is one of the most important pieces of bringing your product to market. When developing this plan, you should:
Set your product launch date

Define product launch goals

Perform a competitive analysis

Define your ideal customer profile (ICP) and their pain points and solutions

Write product messaging brief/positioning statement

Create your web presence, define SEO keywords, and develop a content calendar and email calendar

Create engaging copy and imagery for social media platforms and develop a social content calendar

Determine if a press release is needed

Develop paid media campaigns

Identify if there are partners it makes sense to co-market/co-launch the product with
What are the stages of a product launch?
The stages of a product launch include the following:
Planning around the product itself (e.g., idea generation, product screening, and concept development)
Defining launch goals and market positioning and messaging
Executing owned marketing tactics (e.g., website development, SEO, content development, email promotion planning, and social media content calendar creation)
Planning for paid media and PR
Creating and internal launch plan
Planning for any partner marketing
Executing the product launch
Analyzing performance and making adjustments as needed
How can I create a product launch marketing plan?
Develop your RACE framework, which gives marketers quick access to practical, actionable data about their customers' experiences of your product:
REACH your audience via search engines with an SEO strategy, social media, email marketing, and content marketing. Content marketing can be especially powerful with a plan for product-related blog articles, infographics, and more.
ACT on your audience via your website. Develop interactive content/tools for your audience to convert on. Optimize your content and website for lead conversion, time on page, and opportunity to interact with content.
CONVERT your leads using CRO and marketing automation. Turn leads into revenue.
ENGAGE your current customers. Happy customers are your best advocates for reaching new customers!
What should a product launch marketing plan include?
The key to successfully introducing your product to the market is having a comprehensive product launch plan. Here are the steps to developing your product launch plan:
Setting a clear launch date for the product
Defining specific launch goals for the product
Conducting a competitive analysis to understand the product landscape
Identifying the ideal customer profile (ICP) along with their pain points and the solutions your product offers
Creating a messaging brief and positioning statement to communicate your product's unique value proposition
Establishing an online presence by developing an SEO keyword strategy, content calendar, and email calendar
Generating engaging copy and imagery for social media platforms and developing a social content calendar
Assessing the need for a press release
Creating paid media campaigns to drive traffic to the product
Identifying potential partners to co-market or co-launch the product with
How will you use my personal information?
We may use or disclose the personal information we collect for one or more of the following business purposes: To provide you with information, products, or services that you request from us. To provide you with email alerts, event registrations, and other notices concerning our products, services, events, and news that may be of interest to you. To carry out our obligations and enforce our rights arising from any contracts entered into between you and us, including for billing and collections. To carry out our obligations and enforce our rights arising from any contracts entered into with our clients. To improve our website and present its contents to you. For testing, research, analysis, and product development. As necessary or appropriate to protect the rights, property, or safety of us, our clients, or others. To respond to law enforcement requests and as required by applicable law, court order, or governmental regulations. As described to you when collecting your personal information or as otherwise set forth in the CCPA.
We will not collect additional categories of personal information or use the personal information we collected for materially different, unrelated, or incompatible purposes without providing you notice.
Time to start planning your product launch!
Simply Fill Out the Form and Get Access to Your Own Template.