Template
LinkedIn Posting Plan Template
Take your LinkedIn posting strategy to the next level with this 30-day planner.
Download Now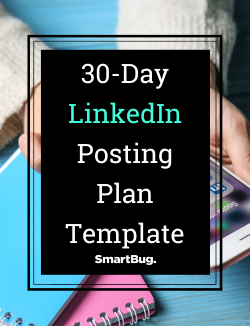 For professionals and job seekers, posting on LinkedIn is an excellent way to showcase skills, knowledge, and qualifications while networking with other professionals and keeping their profile up to date to catch recruiters' eyes.
For businesses, posting on LinkedIn about their accomplishments, core values, and upcoming opportunities can attract potential future clients and employees while helping current clients and employees feel more connected to the organization.
However, it can feel overwhelming to figure out what kinds of posts will resonate with your network, establish thought leadership, and keep you connected in all the right ways. This template is a 30-day LinkedIn posting plan that will provide you with new ideas and a marketing strategy to stay consistent on LinkedIn.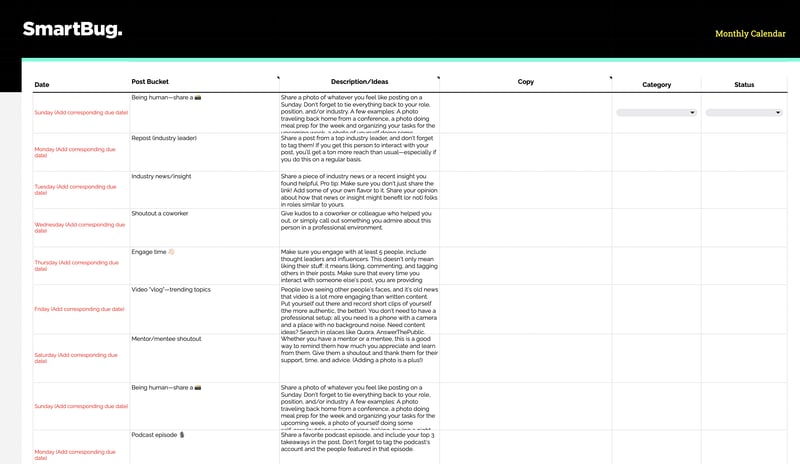 Our LinkedIn Posting Plan Template can help you:
Choose topics and customize posts for LinkedIn.
Create a 30-day calendar for your LinkedIn posting strategy.
Come up with new ideas and ways to connect with your network.
What is a LinkedIn marketing plan?
A LinkedIn marketing plan is a strategy used to build relationships on the LinkedIn platform. It typically includes activities such as creating content, building a network, and engaging with business professionals. A successful LinkedIn marketing plan should focus on connecting with the right people, creating content that resonates with your target audience, and providing value to those connections.
How do you plan LinkedIn posts?
When planning LinkedIn posts, it is important to have a clear goal in mind and to create content that is tailored to the target audience and resonates with them. Consider the type of content that the audience finds valuable, such as tips and advice, industry news, or even humorous posts. When creating content, keep in mind the best practices for posting on LinkedIn, such as using visuals, tagging relevant people or companies, and including hashtags. Lastly, plan out a content calendar to ensure you're consistent in posting on a frequent basis.
Will this LinkedIn template provide post ideas?
Yes! This template gives you 30 days of different posting ideas that will allow you to customize and create posts specific to you and your network.
How frequently should I be posting on LinkedIn?
This is subjective and based on your personal preference and motives. We recommend having a content plan for LinkedIn that is steady without spamming your audience. A great place to start is posting once a week.
What is the best time to post on LinkedIn?
According to HubSpot, the best times to post on LinkedIn are:
Between 12-9 p.m.
Wednesday, Saturday, and Sunday


How will you use my personal information?
We may use or disclose the personal information we collect for one or more of the following business purposes: To provide you with information, products or services that you request from us. To provide you with email alerts, event registrations and other notices concerning our products or services, or events or news, that may be of interest to you. To carry out our obligations and enforce our rights arising from any contracts entered into between you and us, including for billing and collections. To carry out our obligations and enforce our rights arising from any contracts entered into with our clients. To improve our website and present its contents to you. For testing, research, analysis and product development. As necessary or appropriate to protect the rights, property or safety of us, our clients or others. To respond to law enforcement requests and as required by applicable law, court order, or governmental regulations. As described to you when collecting your personal information or as otherwise set forth in the CCPA.

We will not collect additional categories of personal information or use the personal information we collected for materially different, unrelated, or incompatible purposes without providing you notice.
Add this template to your personal toolkit and maximize your LinkedIn strategy.

Fill the form below and get access to our LinkedIn Posting Plan Template.