template
HubSpot & Salesforce Integration Mapping Template
Although no two integrations will ever look the same, you can use this template to reduce as much friction as possible.
Download Now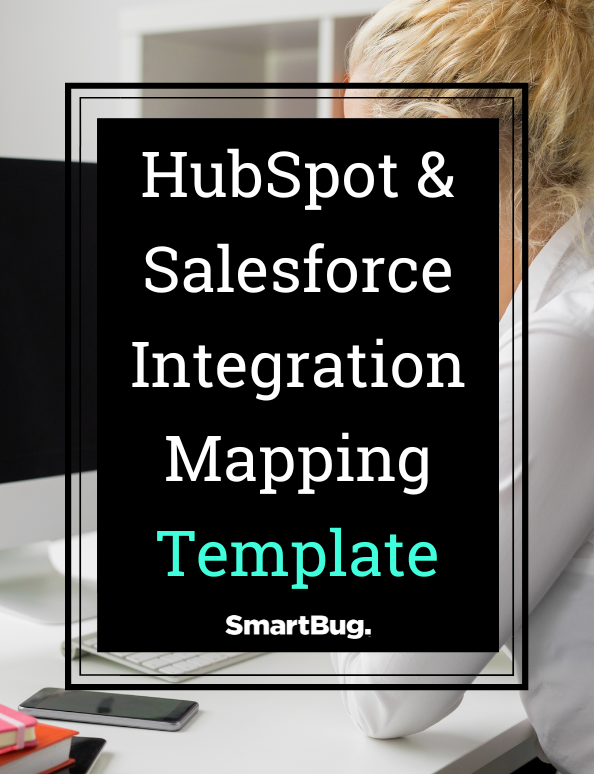 The Salesforce integration is one of the most popular integrations in HubSpot's App Marketplace. Salesforce has been around for decades, and many sales teams rely on its data. As marketing and sales teams become more and more integrated, they are recognizing the need to resolve friction when they work in different systems.
In many companies, the sales team uses Salesforce and the marketing team uses HubSpot. This separation can lead to siloed data, making it difficult to see how clients' marketing and sales efforts are performing. With the Salesforce integration, both systems are connected so that users can access critical data from both systems. With this integration mapping template, you can organize the data to prepare for a seamless integration.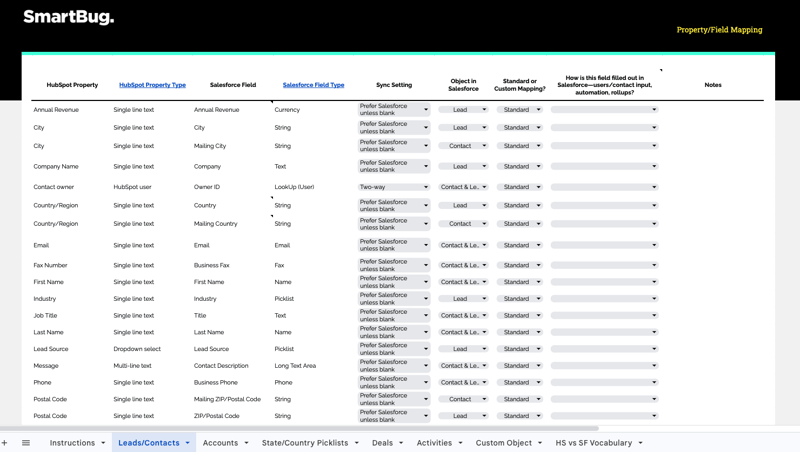 Our HubSpot-Salesforce Integration Mapping Template includes:
Property/field mapping for leads, accounts, deals, and activities
Property/field mapping for custom objects
HubSpot vs. Salesforce vocabulary sheet
How does HubSpot integrate with Salesforce?
HubSpot can integrate with Salesforce in various ways. HubSpot can push contacts and leads to Salesforce and pull opportunities, tasks, and campaigns. HubSpot can keep Salesforce contacts up to date and sync reports, dashboards, and insights between the two platforms. HubSpot can also be used to send Salesforce notifications, track emails, and manage accounts.
What are the best practices for a HubSpot-Salesforce integration?
1. Define clear goals and objectives for your integration. The first step to setting up a successful HubSpot-Salesforce integration should be to define clear goals and objectives for your integration. This will help you plan the integration and ensure you are getting the most out of it.

2. Work with your team on an integration mapping document. The primary goal here is to fill out all of the fields and identify the sync settings for each before starting the migration. Our HubSpot-Salesforce Integration Mapping Template provides you with everything needed to complete this step.
3. Create an integration user or request a Salesforce admin user from your IT team. As soon as you start working on the mapping document, ask your IT department to create a Salesforce user with administrative access specifically for the integration. (If you have administrative access to Salesforce, you can create the integration user yourself.) You might not believe it, but getting an integration user with admin access to Salesforce is often one of the longest tasks in the integration project.

4. Conduct the kick-off call(s) with your teams. Kick-off calls provide the opportunity for your marketing, sales, and sometimes even operations teams to get aligned. Your kick-off call should encourage discussion rather than simple yes or no responses, so expect this meeting to be anywhere between an hour and an hour and a half.

5. Set up a bidirectional sync. It is important to set up a bidirectional sync between HubSpot and Salesforce so that data is flowing in both directions. This will help keep your data up to date and ensure that your teams are working from the same source of truth.

6. Set up automated workflows. Setting up automated workflows between HubSpot and Salesforce will help streamline your processes and ensure that data is flowing between the two systems as needed.

7. Clear space in your schedule. A typical integration takes about 20 hours, including a few hours of watching for extra sync errors after setup. However, these 20 hours are usually spread out over a month or longer. In most cases, the integration takes longer than a month, but the pace of the project depends on how quickly you finish the mapping document, obtain a Salesforce admin login for the integration user, and resolve integration sync errors.

8. Monitor and optimize. Once your integration is set up, it is important to monitor and optimize it regularly to ensure it is working as expected.
Is this a HubSpot-Salesforce integration guide?
This template is your ultimate rulebook for data movement between HubSpot and Salesforce. It outlines:
HubSpot properties and property types and Salesforce fields and field types to sync them to for Contacts, Companies, Deals, and Activities
Whether data should sync both ways, not sync, prefer Salesforce unless blank, or always prefer Salesforce
Custom objects and their fields in Salesforce that will sync one-way to HubSpot


You can view the full HubSpot-Salesforce integration guide here.
How will you use my personal information?
We may use or disclose the personal information we collect for one or more of the following business purposes: To provide you with information, products, or services that you request from us. To provide you with email alerts, event registrations, and other notices concerning our products, services, events, and news that may be of interest to you. To carry out our obligations and enforce our rights arising from any contracts entered into between you and us, including for billing and collections. To carry out our obligations and enforce our rights arising from any contracts entered into with our clients. To improve our website and present its contents to you. For testing, research, analysis, and product development. As necessary or appropriate to protect the rights, property, or safety of us, our clients, or others. To respond to law enforcement requests and as required by applicable law, court order, or governmental regulations. As described to you when collecting your personal information or as otherwise set forth in the CCPA.

We will not collect additional categories of personal information or use the personal information we collected for materially different, unrelated, or incompatible purposes without providing you notice.


Download this template to prepare for a seamless
HubSpot-Salesforce Integration.

Fill the form below and get access.