Template
Advanced Custom Lead Scoring Model
Go Beyond Basic Lead Scoring with a Model That Applies Value to Fit and Engagement Categories of Your Prospective Audience.
Download Now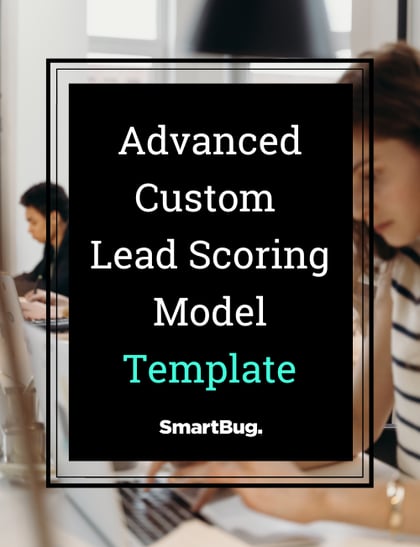 Marketing teams choose to score leads in many different ways. As a lead marketer, you know who your company seeks to do business with. And yet, with an underdeveloped lead scoring model, it's still possible to overestimate or underestimate a lead's likelihood of becoming a customer.
For this reason, we created a more advanced lead scoring model that fills in the gaps missed by basic models. It's worked for us, and we highly recommend that you check out the free Google Sheets template as a starting point.
Advanced lead scoring will allow you to combine a fit score and an engagement score to provide your sales team with more context for leads in the pipeline:
A fit score determines how close a prospect comes to being a match. This is determined by several attributes including revenue, vertical, industry, and ideal customer profile match. Once the fit score is determined, it doesn't change.
An engagement score is determined by how often a prospect is engaging with you by filling out forms, reading emails, and so on. Unlike the fit score, the engagement score can fluctuate depending on how often a lead interacts with your content.
Taking the steps toward advanced lead scoring is pretty simple. On your end, you need to conduct the proper research into your ideal customer profile and develop a step-by-step process in your CRM to ensure your lead scoring model accounts for every nuance in the process. Lucky for you, we have this last part covered. Based on our own experience developing an advanced lead scoring system, we created this template!
What is lead scoring?
Lead scoring is a method of ranking leads based on their potential for becoming customers. It is used to identify which leads are most likely to buy a product or service. Lead scoring uses data such as demographics, behavior, interactions with the company, and other factors to assign a score to each lead. Companies can then focus their efforts on the leads with the highest scores because they are more likely to become customers. Lead scoring can help companies focus their efforts on the most profitable leads and make better use of their resources.
How do I develop a lead scoring model?
1. Identify key attributes: Identify the attributes you want to use to score leads. Common attributes include demographics, behavior, interests, customer lifetime value, and customer loyalty.
2. Assign scores: Assign scores to each lead based on their attributes. For example, a lead with a high customer lifetime value may be assigned a higher score than a lead with a low customer lifetime value.
3. Test and refine: Test the lead scoring model and refine it as needed. Collect data on the performance of your model, and use the data to adjust the scores to improve accuracy.
4. Monitor performance: Monitor the performance of your lead scoring model. Collect data on the conversion rates of leads and adjust the model if needed.
Note: This custom lead scoring template will walk you through this process step by step.
What is an ideal customer profile?
An ideal customer profile (ICP) is a description of an ideal customer based on information such as demographics, buying behavior, interests, and needs. Companies use ICPs to identify their potential customers and target their marketing and products to those customers. An ICP should also include information about how customers interact with a company, such as purchase history, loyalty, engagement, and feedback. By understanding an ICP, companies can create more effective marketing messages and tailor their products and services to meet customers' needs.
How do you build an ideal customer profile?
1. Gather customer data: Start by gathering data from existing customers. Collect data such as demographics, purchase history, interactions with the company, feedback, and buying behavior.
2. Analyze customer data: Analyze the data to identify common patterns among your customers. Look for patterns such as age, gender, location, interests, and purchasing habits.
3. Create a customer persona: Create a customer persona using the data. A customer persona is a detailed description of an ideal customer, including their needs and preferences.
4. Adjust your marketing strategy: Use the customer persona to review and adjust your marketing strategy. Make sure your messages are tailored to the needs and interests of your ideal customer.
5. Analyze results: Track the results of your marketing campaigns and analyze the data. Use the data to refine your ICP and improve your marketing strategy.
How will you use my personal information?
We may use or disclose the personal information we collect for one or more of the following business purposes: To provide you with information, products, or services that you request from us. To provide you with email alerts, event registrations, and other notices concerning our products, services, events, news that may be of interest to you. To carry out our obligations and enforce our rights arising from any contracts entered into between you and us, including for billing and collections. To carry out our obligations and enforce our rights arising from any contracts entered into with our clients. To improve our website and present its contents to you. For testing, research, analysis, and product development. As necessary or appropriate to protect the rights, property, or safety of us, our clients, or others. To respond to law enforcement requests and as required by applicable law, court order, or governmental regulations. As described to you when collecting your personal information or as otherwise set forth in the CCPA.
We will not collect additional categories of personal information or use the personal information we collected for materially different, unrelated, or incompatible purposes without providing you notice.
Start Developing Your Own Advanced Lead Scoring Model Now!
Simply Fill Out the Form and Get Access to Your Own Template.