By Mike Wolfe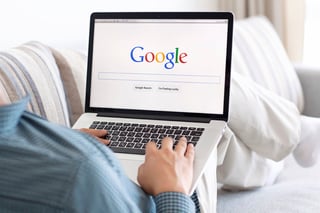 2015 is a thing of the past. And with ambitious new marketing goals on everyone's radar, 2016 plans are already in full swing. As we look ahead into a new year filled with opportunities to engage audiences and attract customers, let's not forget to look back on 2015 for inspiration as well.
Google's annual Year in Search is a recap of the year's most searched topics. It provides great visibility into an entire year's worth of events, but it can also give valuable insight into what the general population's interests are, how people use Google as a tool to find the results they want, and how inbound marketers can tailor their content to align with audience interest.
Let's take a look at what we can learn from the year's top search trends:
Trend: GIFs
An animated GIF (Graphics Interchange Format) is a series of graphic images that run through a timed progression to present an animation. Most animated GIFs are light-hearted and used to add humor to a situation. In fact, most of the year's top searched GIFs are intended to be funny. The year's most searched GIF is of Shia Labouf giving a loud and over-the-top motivational speech. This GIF, pictured below, is often applied in situations that call for a little encouragement.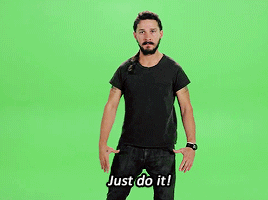 While most GIFs are funny, not all of them need to be. They can also be used to demonstrate a processor spice up a web page. For more information, read How Marketers Can Use GIFs to Relate to Customers.
Takeaway: People love GIFs. And because they can capture viewer's attention and convey a quick-hitting message, marketers can use them strategically in social media posts, blog articles, emails and web pages to reach and engage with their audience.



Trend: Personal Technology
Of the top ten trending "How to…" searches in 2015, nearly half of them were related to performing basic tasks in personal technology like how to use the Snapchat update, how to update to Windows 10, and how to authorize a computer on iTunes. While there's not a lot of information in Google Trends that tells us about the people who are searching, what is apparent is the fact that there are lots of people out that turn to Google in order to understand how to use basic personal technology.


Trending 2015: How to...?
1.
How to use the new Snapchat update?
2.
How to solve a rubix cube?
3.
How to get legendary marks?
4.
How to play Charlie Charlie?
5.
How to upgrade to Windows 10?
6.
How to get the new emojis?
7.
How to authorize a computer on iTunes?
8.
How to hit the quan?
9.
How to lose 10 pounds in a week?
10.
How to use Apple Pay?
When it comes to digital marketing, consider how easy it is for your audience to engage and interact with you on their personal devices. Can they easily navigate your website? Do they know how to receive your downloadable content? Do they know what an ebook is?
Takeaway: Don't assume that everyone has the same level of skills when it comes to technology. Whether it's through an app, a website, email or any other form of engagement with your audience, make sure that your message is clearn and that the inbound task you want them to perform is easy enough for anyone and everyone to do it. Use terminology they're sure to understand, and if you think your audience is a little behind the technology curve, then provide a little extra guidance.


Trend: Star Wars Hype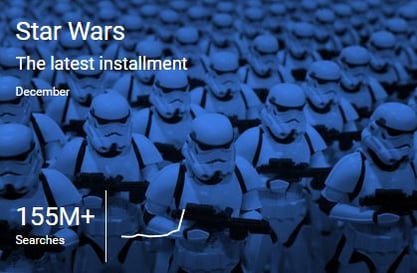 After the release of the first official movie trailer for Star Wars: The Force Awakens in October 2015, anticipation for the new movie spiked dramatically. The movie trailer quickly became one of the most viewed movie trailers of all time. And over the next few months building up to the new movie's release, interest in the entire Star Wars franchise grew as well. The result was over 155 million Star Wars-related searches.
The ten year wait since the last Star Wars movie is probably the biggest factor in what built anticipation for the new movie, but it was definitely fueled by marketing and merchandising too. Several brands, such as Covergirl, Duracell, General Mills, HP, Subway and Verizon have leveraged the power of the space saga's story to relate to their audiences.
Takeaway: While the Star Wars hype is not something that can be easily replicated, and not all brands have the budget to land a Star Wars licensing deal, what marketers can take away from this is the power of leveraging interests in order to appeal to an audience. Consider the popular topics in your industry. What is everyone excited about? What trends are building anticipation among your audience? Understanding those topics and providing educational content around them, such as blogs, ebooks, whitepapers and infographics, can draw an audience in—not by promoting your products or services alone, but instead by starting the conversation where the audience's attention currently lies.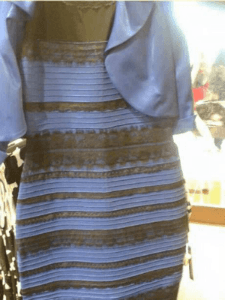 In February of 2015, an image of a black and blue dress went viral. Blue and brown? Either way, this poorly exposed photo received more than 73 million searches worldwide. Why? Because the world could not agree what color the dress actually was. One color perception study with 1,400 respondents found that 57% saw the dress as blue and black, 30% saw it as white and gold and 10% saw it as blue and brown. Everyone from news anchors and talk show hosts to celebrities and well …pretty much the entire Internet weighed in on what color they thought the dress was and how outraged they were that anyone would think otherwise.
Takeaway #1: Going viral can be very unexpected and unpredictable, but if it's viral in a fun and positive way it can be great for business. Just ask Roman Originals, the retailer of "The Dress". In an article from internet Retailer, Roman Originals reported a 2000% increase in site traffic and 347% increase in sales during the phenomenon.
Takeaway #2: If people can have such a wide variety of views when it comes to looking at the same image, isn't it likely that their views could also differ when it comes to something like the product or service you're providing? This is why inbound marketers identify various personas within their target audience and use tailored messaging for each one. Personas are unique with their own set of views, goals, pain points and more. Consider your messaging. If you're only looking at it from one view, you might see better results by developing and using persona messaging.
Related: Why Every Inbound Marketer Needs to Use Buyer Personas
Inbound marketing is about delivering the right message, to the right audience, at the right time. Depending on your brand, and your audience, that message might include humor, specific instruction, mainstream hype, multiple perspectives or a combination of these in order to appeal to your audience and attract new customers.
Those were my biggest marketing takeaways from Google's 2015 Year In Search. What are yours?