By Dolly Howard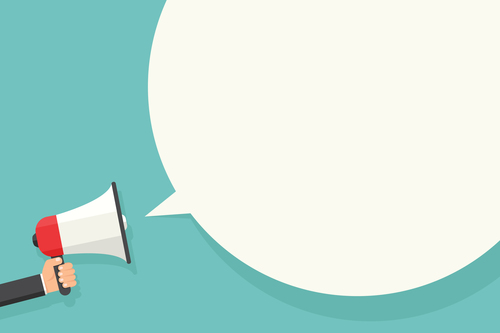 Welcome to our weekly edition of SmartBug Media's inbound marketing round up. In order to help you stay as up to date as possible on inbound marketing trends, HubSpot updates, and more, here are a few of our favorite news items:
New & Noteworthy
LinkedIn Adds Lead Gen Tool to SlideShare
The new lead generation solution helps brands convert their viewership on SlideShare into high quality prospects. Now, users will be able to add forms to their SlideShare presentations. See example below. This launch features several important product features that you can read about here.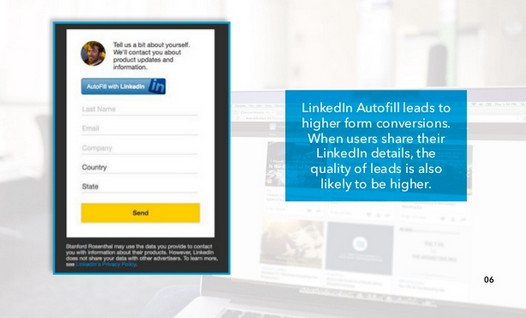 The HubSpot Impact Awards is Now Open for Voting
And, SmartBug Media is a finalist! Learn how to vote for us here.
Facebook Introduces Creative Spotlight for Video Ads
Facebook is introducing "Creative Spotlight" to help highlight and share the "best practices for creating video ads on Facebook that grab attention and drive business goals." Read about how this can help you here.
Facebooks Adds New Secret Video Feature for Publishers
"Secret videos give Page owners the ability to upload videos that are accessible only via a direct URL, but which are not searchable for people on Facebook. This is useful for publishers who want to host videos on Facebook, embed them on third-party sites or share them with anyone who has the URL, without posting them anywhere else on Facebook." Read more here.
Popular Pays Raises $2M to Help Bring Instagram Users to Marketers
Popular Pays is a Y-Combinator backed startup that helps connect millions of Instagram users to marketers every day. The way it works is businesses describe the kind of campaign they're looking to create, then Instagrammers can apply to be involved and quote the amount of money it would take for them to be involved. The marketer chooses the users they want to work with, those users start posting and Popular Pays provides data about how the campaign is doing. Read more about this company here.
Twitter Makes it Super Easy to Create Buzz Around Big Events
In order for marketers to gain traction around an event (say #INBOUND2015), Twitter now allows anyone with a Twitter Ads account to "browse a calendar of upcoming events, look at data around the size and demographics of the Twitter audience around each event — then, if they like what they see, they can target an ad campaign at that audience." Read more here.
Helpful Tips to Grow Your Inbound Marketing
Planning Trade Shows for the Fall? Learn How to Maximize the ROI First
The traditional approach to tradeshow marketing is broken: business development teams spend money for booths and sponsorships, let a few prospects know they'll be attending, hurry through some demos, and come back to the office with more ideas in notebooks than business cards in hand. Sound familiar? The $25 billion that companies spend on attending and exhibiting at these events isn't providing as much return on investment as it should, but an inbound approach can help. Download the Free Ebook and learn how today.
Which Lead Conversion Benchmarks Should You Be Tracking?
So what is a good conversion rate anyway? When it's time to do an analysis of lead conversion rates how do you even know where to start? There are so many different numbers that we marketers look at every single day that it may be difficult to find a good starting point. Learn the most important ones here.
How to Effectively Communicate with Designers During a Website Redesign
To stay current with the ever-changing digital landscape, many companies are finding they're in need of a website redesign every few years. If you're one of these companies, you'll want to streamline the process as much as possible, which means effectively communicating with your design team. The best way to do this is to set up a process that leaves very little room for error throughout the website redesign. Consider the following points when getting started.
Pro Tips for Improving Landing Page Conversion Rates
Landing pages are used in the inbound marketing funnel to collect visitor information, nurture prospects and generate qualified leads. And whether it's delivering premium content, inviting to a webinar, or taking information/demo requests, the goal for a landing page is always the same - get the reader to take the next step. How are your landing pages performing?
5 Fundamental Marketing A/B Tests Every Tech Company Needs to Run
One of the most important facets of marketing is testing. If you're not testing, you're not learning. If you're not learning, you're not growing. In this post, we've given you tests that you can easily implement into your tech marketing strategy today. Not a tech firm? It's still a worthwhile read. Learn More.
10 Inbound Marketing Tactics to Improve Your Brand's Image
Whether you have an app for budgeting or sell electrical engineering equipment, your content should be valuable and informational to help grow authority in your industry. Brands like Google, HubSpot, and MoZ have all built their brand images on being an authority brands in an online world by providing their website visitors with valuable content . Here are 10 inbound marketing tactics to build your brand image much like that of these well-known companies. Read More
The 8 Dying Trends of Website Design to Stay Away From
When redesigning your website, it's important to create a digital storefront that is, above all, usable and appealing to your ideal customer. It's tempting to think that "usable" and "appealing" mean the same things as "flashy" and "trendy." But in the world of website design, that couldn't be farther from the case. While we're not championing the design of "classic" websites like Havenworks.com or LingsCars.com, we are in favor of creating websites that use clean designs and effective strategies to attract the right traffic, convert that traffic into leads, and help nurture those leads into customers. Learn More Here
The Latest Marketing Reports
Study Shows Digital Marketing Agencies Retain More Clients If They Track Telephone Calls
Bamboo Nine

, a forward thinking UK Digital Agency, uses call tracking software to prove that it generates leads and conversions for its customers, leading to increased client spend and a 98% client retention rate.

Read the Study
98% of Real-Time Marketers Report Positive, Measurable ROI
Social media intelligence and marketing company Wayin conducted a study of 200 director level and higher marketing professionals who are currently practicing real-time marketing.98% of respondents report positive return on their real-time marketing efforts; 89% of respondents have fully tied their real-time marketing efforts to measurable business goals; 56% believe real-time marketing help build customer relationships; 59% plan to increase their real-time marketing budget in the next year. Download the Study
What's New with HubSpot?
Utilize HubSpot's Tag "HubSpot Hacks" for Quick Tips
HubSpot frequently uses the tag HubSpot Hacks to blog about on their customer blog. This is a great tool for marketers that need quick tips and time save tactics. Bookmark this link.
--
What other news have you read recently? Let us know by tweeting us at @smartbugmedia.