By Dolly Howard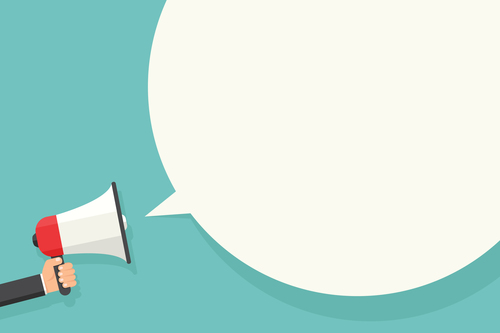 Welcome to our weekly edition of SmartBug Media's inbound marketing round up. In order to help you stay as up to date as possible on inbound marketing trends, HubSpot updates, and more, here are a few of our favorite news items:
New & Noteworthy
Harvard Business Review Compares the ROI of Content Marketing and Native Advertising
Recently, Fractl and Moz teamed up and surveyed over 30 agencies about how ROI is tracked with the goal of figuring out how great the return on investment is for both content marketing and native advertising. The results and differences between the two marketing strategies were extremely interesting. Read the Article.

Twitter Now Offers More Link Content on Summary Cards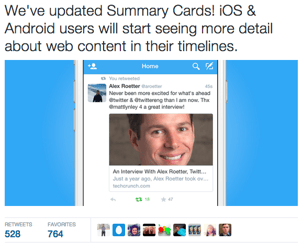 Now, Android and iOS users will be able to see even more content in their feeds when someone shares a link. The update will improve the look and feel of content being produced on the platform. The update hasn't been rolled out to Windows phones yet. Read the Article.

Google Tests "Purchase on Google" Button with Retailers
20% of users on Google swipe to interact with shopping ads, expressing a strong desire to learn more. So Google is rolling out a new enhancement that gently expands the shopping ads as you swipe, revealing information like product ratings and availability at a nearby store. The result: more qualified traffic driven directly to retailers. This feature will begin rolling out on Chrome for Android this month, with iOS to follow in the coming months. Read the Article.
Crayon Launches Mobile Marketing Insights Platform
Marketing design search engine, Crayon, has officially taken its mobile marketing insights platform out of beta. With mobile traffic increasingly growing, the company has always had a mobile platform on their radar. Now, marketers can gain inspiration anytime, anywhere. You should definitely check it out. Read the Article.
G2 Crowd Shows HubSpot as Leading Marketing Automation Software
According to G2 Crowd's latest Grid, HubSpot ranks first in both user satisfaction and market presence, the two dimensions measured in the Grid. User satisfaction reviews are submitted by business professionals, and market presence is determined by G2 from vendor size, market share, and social impact. See the Grid
Helpful Tips to Grow Your Inbound Marketing
New, Free Guide: 12 SEO Mistakes to Avoid When Redesigning Your Website
Are you redesigning your website? Have you been getting questions about what is going to happen to your search engine rankings once it goes live? Don't worry. We've got you covered. Our latest guide breaks down the top twelve things can go wrong (from an SEO perspective) during a website redesign and relaunch. It's completely free to download, so the next time you get a question, you can simply send over this guide. Get the Guide Here
Infusionsoft vs. HubSpot Comparison
Our friends at Software Advice have created a thorough comparison of Infusionsoft and HubSpot. The comparison breaks down customer ratings, operating systems, mobile compatibility, reviews, and even a video product demo! If you're trying to decide between the two programs, this is a must-see. Check it Out Here.
3 Easy Steps for Writing Follow Up Emails in Less Time
Did you know that we spend 28% of our day in email alone? We have to fix that. Luckily, Alex Crumb has created a quick tutorial to help us save time writing those pesky follow up emails over on the HubSpot Customer blog. Learn More.
What are Micro Personas and Do You Need Them?
If you've been involved with inbound marketing, you've most likely heard the term "Personas", but have you heard of Micro Personas? Our in-house persona expert, Rachel Moore, has created a complete breakdown about what micro personas are and how to decide if you actually need them in your marketing strategy. Learn More.
5 Fundamental Marketing A/B Tests Every Tech Company Needs to Run
One of the most important facets of marketing is testing. If you're not testing, you're not learning. If you're not learning, you're not growing. In this post, we've given you tests that you can easily implmenet into your tech marketing strategy today. Not a tech firm? It's still a worthwhile read. Learn More.
Changing Data into a Story to Market Your Tech Company
If you haven't heard by now, tech companies need to stop selling products and start telling stories. Engaging with users is critical to forming a strategy that resonates with users and compells early adoption. But, how do you do this exactly? Learn More.
The Evolution of an Inbound Marketing Program
Are you just getting started with inbound marketing? It can be very scary, especially if you've invested in a marketing automation software and need to start seeing results. Learn how an inbound marketing program can be split into steps and what happens in each. Learn More.
The Latest Marketing Reports
The 49% Marketing ROI Mistake You Don't Know You're Making
DialogTech's first research report titled, "The 49% ROI Mistake Marketers Don't Know They're Making," revealed that without call attribution, marketers could be missing out on 49 percent of mobile conversions, creating an ROI blind spot that inhibits their ability to measure what's really working. Read the Study
The Role of DMPs in the Era of Data-Driven Advertising
The research, part of a new Modern Marketing Actionable Insights Serieslaunched in partnership with Oracle Marketing Cloud, looks at why companies are introducing these increasingly influential technology platforms and the challenges which prevent them being used to maximum effect. Read the Study
What's New with HubSpot?
The 8 Social Monitoring Streams You Need to Create Today
Whether you're a social monitoring novice or you're in the tool every day, we've put together a list of our top 8 streams to create and begin monitoring right away. To make things simple, we've grouped this list by each of the three types of streams the HubSpot Social Monitoring tool allows you to create. . Learn How

The 5 Best HubSpot COS Tips and Tricks for Website Redesigns
HubSpot's COS is the perfect platform for your next website redesign. Its design capabilities as well as integration with all inbound marketing efforts make it the uncontested best choice for the job. There are, however, certain tips and tricks to consider when redesigning on the HubSpot COS. Learn How
--
What other news have you read recently? Let us know by tweeting at us at @smartbugmedia.