By Andrew Macey
Infographics are an incredible marketing opportunity for businesses to be wildly creative, promote thought leadership, and draw new prospects to their websites and their products. Conventional wisdom might suggest that only large companies have the resources and ability to create infographics, and only large companies would have the need to take such a bold step.
This is inbound marketing: Forget convention, forget wisdom, but definitely be bold. SmartBug Media recently helped a small IT services provider create a first-class infographic that rivaled anything a mega corporation could produce. The collaboration proved that smaller companies can think big when it comes to marketing, thought leadership, and appealing to current and future customers.
A Small Business, a Big Goal
We have been working with Willow Bend Systems for approximately a year. Willow Bend is a managed IT services company, located in Plano, Texas, servicing the Dallas/Fort Worth metro area. It is an SMB (small-to-midsized business) in every sense of the term—local focus, fewer than 50 employees, and always striving to attract and convert leads and customers.
Our inbound efforts with Willow Bend over the past year have resulted in measurable success in terms of leads and conversions. Because Willow Bend is a local business, it doesn't draw a ton of traffic. Inbound content for tech SMBs often entails blog posts, e-books, white papers, and so on. These are all strong, important strategies that we enthusiastically pursued, but we also proposed an out-of-the-box idea to shake the content up a bit: an infographic.
Typically, small businesses don't attempt infographics—many don't even invest many resources in marketing of any kind. This strategy was unique for a local business, and the results were anything but ordinary.


The Results
We and Willow Bend agreed upon password security as the topic for the infographic. Password security is a big concern for small businesses—the target audience Willow Bend aims to attract. Moreover, many small businesses may not have time to read a whole e-book, for example; an infographic offered a quick and easy way to digest this important information.
The process of creating the infographic turned out to be remarkably smooth. The process was similar to what we do with any piece of premium content: We assembled a creative brief, identified the high-level topics we wanted to focus upon, and also identified the primary persona we were directing the infographic toward. Our writer assigned to the client compiled the information for the content, Willow Bend added their input and approved the copy, and our design team created the infographic—Password Security Tips and Processes for Small Businesses—as it appears now.
The infographic debuted Jan. 12 on the Willow Bend blog and was an immediate success. Views to the overall blog jumped 98.28 percent in January, mostly attributable to the post featuring the infographic (which drew the most views of any post during the month). Typically, blog posts require time to gain some traction, but to see these results right away was a good indicator that password security—especially presented within the infographic format—was something that resonated with Willow Bend's target audience.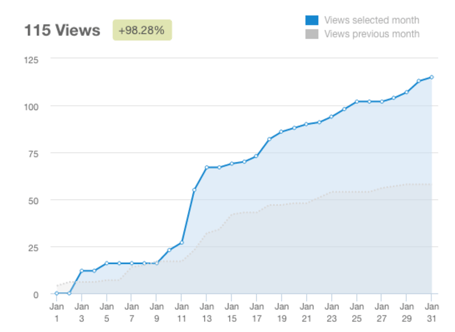 Just as impressively, month-over-month traffic to the Willow Bend website increased 15 percent after the infographic debuted. The content also further solidified Willow Bend as a thought leader in the password security space, thus establishing important authority that can impress future leads and, ideally, customers. In other words, Willow Bend is now more than just a local IT provider…
In the few months since its debut, our infographic continues to drive traffic for Willow Bend. Opportunities for social sharing and backlinks contribute to the overall success of the content.
Willow Bend's daring move to publish an infographic has yielded short-term victories and long-term benefits. Inbound marketing is already a bold strategy; don't be afraid to go bolder to expand your marketing reach.