By Juli Durante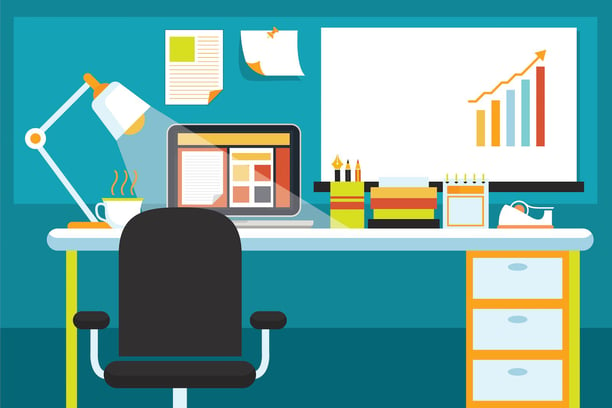 Whether you work from home every day, once a week, or every once in a while, your remote office setup can be critical for your overall productivity. When you've got the setup, everything flows; you don't even think about what's surrounding you. When it's wrong, it can seem like you can't even turn your computer on without cleaning, rearranging, re-rearranging, and so on. If you're just getting started working remotely, here's a detailed guide from LifeHacker that outlines all the considerations you should take into account to see if it's the right choice for you
Of course, those of us who work remotely also want to have an office that's just cool. You know, to impress our coworkers on those video calls and to wow our friends if they come to visit. If you want to set up a home office that's as pretty as it is productive, read on.
The Technical Stuff
Think about the "technical" stuff as the backbone of your office - if you don't get it right, your office will not be very useful, no matter the other features you include.
Internet Connectivity
First thing first: you need to get yourself connected to clients, co-workers, and the outside world in general. When working remotely, this means you need a reliable internet connection. While overall the speed you need depends on the kind of work you'll be doing, here's one easy test: if you can't stream Netflix with it, it's not fast enough.
So, you've got your internet set up. If you're lucky, your internet provider also set up a wifi network for you. If you're unlucky (like me), your internet company has supplied a modem/router combo that means your wifi signal doesn't reach quite as far as you expected. You can boost it, but you can also choose to connect directly to your modem with an Ethernet cable for increased reliability. Especially if you have a desktop computer, this is a solid choice.
Phone Service
Unless you work in a total vacuum, you probably need some kind of phone service from time to time. Many Voice over IP (VoIP) services will allow you to call and receive calls from your computer, making them a great choice if you don't want or have a traditional phone line. You can use your mobile phone, but it isn't always the most reliable option. You can also use your home phone or a dedicated phone line. If you're getting TV and Internet from a cable company, it may be more cost effective to add a phone line and "bundle" your pricing, then reserve that number for business. If they're accounting for remote workers, your employer very likely already has VoIP service - which means you can just log in from home and don't need to worry about this at all.
Choosing a Computer
As with your internet speed, the technical requirements you should look for in your computer are largely dependent on what you need to use your computer for. A graphic designer or video editor likely has much more robust needs than a community manager or a call center agent. If you're totally unsure of what you want or need, start with a quiz or buying guide. When it's time to buy, be sure to read plenty of reviews from a variety of sources before diving in.
The Fun Stuff
OK. Computer, Phone, Internet set up. You're ready to work. How do you take your office from ho-hum and standard to totally awesome?
Get More Screen Space (Maybe)
If you're working on a laptop, you have less than an 18 inch screen - perhaps much less. If you're anything like this blog author, you also have about 20 tabs open in 3 browser windows, plus your company instant messaging software, music, Evernote, and a few other programs running. That's a lot to juggle on my 15 inch laptop screen. Fortunately, I also have an external monitor that gives me an extra 24 inches of screen space. At one point in time, I had two 24 inch screens. In another role, a 15 inch laptop screen plus a 27 inch monitor (no, I didn't work for NASA - but it felt like I did!). The extra space comes in handy when you're comparing two documents, transposing data, pulling in research for an eBook or doing any task that requires you to flip between multiple pages or programs. That said, I've never been able to write a blog post with a dual monitor setup or with a super jumbo screen - too much room for distraction. Having the option to add extra screen space when you need it but take it away when it's not helpful is key.
Seat Yourself (Or Don't)
Where do you sit when you work? Is it more productive for you to stand? Do you at least have a chair that doesn't force you to hunch over? If you switch between sitting and standing, how do you accommodate that?
The IKEA FINGAL chair is a favorite of mine. At under $40, it's affordable, adjustable, and comfortable. But it's also the standard black and fake leather of a typical ergonomic office chair. OK, it's a little ugly. Forunately, the rise of Pinterest means you can DIY your cheap find into something much more attractive (even with some faux fur).
A stability ball is a good substitute for a chair if you're looking for some added health benefits, just make sure it's the right height for your desk. Bonus, since you work from home, no one will question your choice and distract you from your work.
Love Your Writing Materials
Although it's possible to work 100 percent paperless, sometimes you just need to jot something down on a piece of paper. I'm a sucker for a good pen and a cute notebook. My favorites are spiral bound, about eight inches tall, and are at least an inch (yes!) thick with paper. Especially when I decide that "working from home" means "working from anywhere but my home", a notebook is a godsend. It's one of those little touches that can help you feel totally ready to work.
Bring In Some Actual Living Plants
Surrounding ourselves with nature, whether it's a house plant, view of our outdoor garden, or a sliver of sky peeking in through the curtains, can reduce stress and enhance our work. I must confess, I cannot keep houseplants alive. Last year, I killed three cacti. For the most part, any greenery in my house is fake, fake, fake. Unfortunately, while these fake plants look nice, they do nothing to actually help productivity, according to a recent study. So you have a two choices: position your desk so you can see outside or consider some plants. I hear jade is nearly impossible to kill.
Make it Personal
It's very, very easy to make a generic office space. Throw up some bookshelves, bring in a desk, add that black office chair and you're done. It will work, but it might not be the inspiration you need to successfully work remotely. Take those bare bones and add:
Your favorite books and reference materials
Photos of family and friends
Art, heirlooms, or other wall hangings
A cushy or fuzzy rug underfoot
Your favorite coffee mug
Anything that makes you smile
Mix it Up
One common thread between remote workers: they value flexibility. That might mean they change their office surroundings regularly (I've been know to change art on the wall every week!) or they change their actual office space just as often. A few days in a co-working space, an hour or two at a restaurant, standing for client calls but sitting to write. You'll often hear them say things such as "Sometimes I like to work in my kitchen" or "I go to the coffee shop when I'm not feeling motivated". One a whole, working remotely means you're not tethered to a 9 to 5 schedule, sitting in one spot - embrace that fact and mix it up now and then.
Do you work in a remote setting? How do you set up your office to achieve "Baller" status? Let us know by tweeting us at @smartbugmedia.