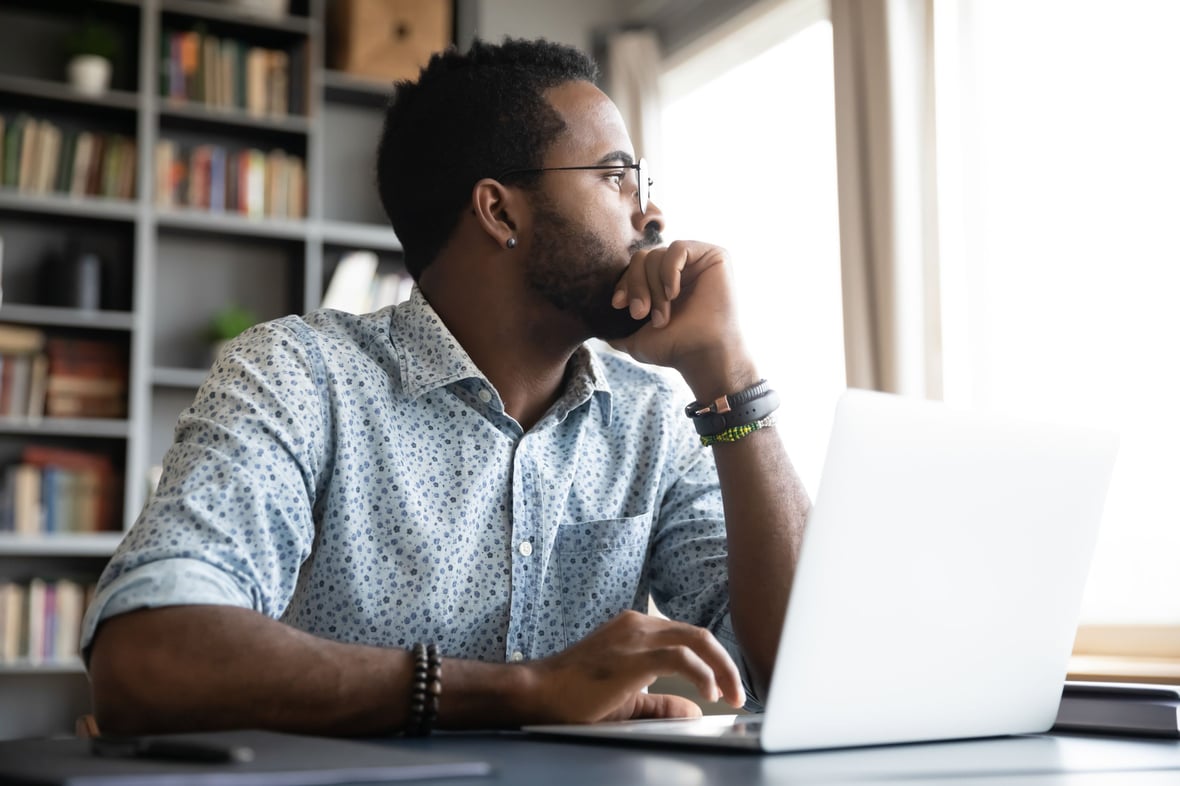 Originally written on April 4, 2019. Content was updated August 21, 2019.
It's a back-and-forth dilemma for every VP or Director of Marketing: Should I spend time and money to build a marketing team or should I hire a marketing agency? Each comes with its own benefits and drawbacks. Here are some things you should consider as you weigh your options:
1. Cost:
According to PayScale, the average marketing specialist salary is roughly $50,000, but the cost to hire and retain a full-time employee is not limited to the paycheck. You'll want to factor in the cost for your time recruiting, onboarding, and training the new employee. There's also healthcare, vacation, bonuses, learning and development, and providing office space and equipment for them when they arrive.

The cost of an agency partner can vary depending on the pricing model, level of integration with your company, and timeline of your goals. Most agencies begin with a six-month agreement that is broken down into monthly payments. Oftentimes, your contract will automatically renew and transition into a month-to-month agreement with a specified opt-out notice period. Some retainers will be broken down by deliverable, while others may be based on a point system. With an agency partner, you'll pay for the skills and execution of many marketers, rather than just one. Keep in mind that you may be paying a marginal markup for this all-access pass.


2. Areas of Expertise
If you have a smaller budget, an in-house team will likely be comprised of a mid-level manager who facilitates and junior-level marketers who execute the work. Although this offers a great opportunity for growth, you may be missing out on true expertise. It's also common for in-house marketers to end up wearing a lot of hats, so when you bring in a higher level employee, it's likely that their expertise will be diluted over time due to growing responsibilities.

However, in-house marketers can have something agencies don't always have: industry knowledge and experience. There's immense value in an employee who's been around the block and can speak your specific industry's language from day one without a learning curve. They'll also be able to navigate internal political nuances as their tenure increases.

The best marketing agencies are comprised of specialists in particular verticals, rather than generalists. Their employees focus, train, and execute in one specific area of expertise. Agencies bring a more diversified skill set to the table. Be sure to do your research and understand who is actually doing the work before you sign a contract. At SmartBug™, for example, marketing strategists start with an average of 10 years of experience and many have held manager- or director-level marketing roles similar to that of the clients that they work with on a daily basis.
3. Scalability
An important question that you should ask is, "What are my goals and how quickly do I need to accomplish them?" Understanding whether you're looking for a new brand strategy, increased lead generation, analytics help, website work, or something else will give you a clear vision of your end goal and can help you decipher which plan of attack makes the most sense to get there.

If you're under pressure to get a campaign running or to generate quality leads ASAP, an agency may be your best option. Agencies have the ability to scale very quickly because of the multiple marketers involved in the process. However, there may be a very detailed discovery period to get the team up to speed, so be sure to take that into account with your timeline.

Small internal teams will have the industry knowledge and personal connection to the overall goal, but the execution is more difficult. If you're not in a hurry to scale, building an in-house marketing team might be a good option for you.


4. Productivity and Accountability
Agency employees touch many different accounts, products, services, and industries. This catapults their professional growth and makes them valuable for their next career move. If you hire an agency based on one person that is executing the work, you may be on borrowed time. On the flip side, full-time employees can get comfortable and stay longer than they should. This opens your team to complacency and stagnation—and firing an employee can be a difficult task. You're also putting all of your bets on one person when you hire a full-time employee. In-house marketers can get bogged down with internal projects or pulled away to meetings which can impede their productivity.

If you're choosing to hire an agency, it is still a great idea to have at least one in-house employee that can keep projects moving and understand the end goal. This person will be able to approve marketing content, report on performance to leadership, and onboard the agency so you are working toward the same goals. Trust is important when you are outsourcing your marketing efforts. Having a designated point of contact will help keep your marketing campaigns on the right track. When you are looking for an agency to work with, make sure they set you up with a team of experts. This way you know there is accountability and consistency.


5. Tech Stack
One huge benefit of partnering with an agency is access to their tech stack. They often pay for memberships to tools like Lucky Orange, Optimizely, and Unbounce. Although you could purchase these tools in-house, the cost would add up rather quickly. It would also require an employee to train and understand how to use these products to their full potential. Agencies are already familiar with all of the tools that are in their tech stack, and the team is trained on implementation and management. The result is maximum efficiency for the client.


It's Not "One Size Fits All"
Hiring a full-time employee could be the right option for you. Hiring a marketing agency could also be the right option.. Both have benefits and drawbacks. Knowing which is right for you requires understanding the unique needs of your company and what fits into your overall strategy.

Whether you choose to hire a marketing agency or an internal marketer, do so with care. Ensure the candidate checks all of the necessary boxes and brings the expertise and experience that you are looking for.

About the author
Carrie Hopkins was formerly a Marketing Strategist at SmartBug Media. Carrie comes with ten years of B2C marketing and has a passion for lead generation. She earned her bachelor's degree from University of Tennessee and MBA from Trevecca Nazarene University. Read more articles by Carrie Hopkins.
Subscribe to get our new blogs delivered right to your inbox
Other insights you might like