By Andrew Macey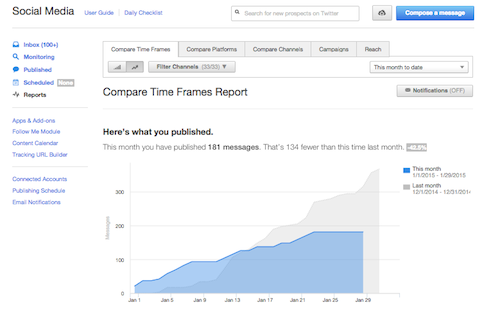 Now, more than ever, social media has become a major component of the marketer's toolkit. Creating and scheduling posts across a variety of platforms has become an easy task, whereas reporting back on the results tends to be more difficult. To remedy this, HubSpot has launched a series of new social reports built right into the inbound marketing tool.
Social media reporting covers many data points. At times, we are interested in the success of a certain post, looking at interactions and clicks. Other times, we take a step back and want to look at the entire endeavor over a period of time. HubSpot's social reports give both a granular and broad view of your overall social media efforts. This post will tell you everything you need to know about HubSpot's new social reports:
Social Reports Now Available in HubSpot
Compare Time Frames Report: This is the first report you see when you login into this area of HubSpot. In this report, you specify a particular timeframe you'd like to look at the data from, and you are shown the results in comparison to the similar timeframe prior. Say. for example, you want to look at social performance over the last 3 months. This report will show you the graph for the previous 3 months compared the 3 months before. In addition, you are given individual graphs to illustrate the following over the same time period:

- Published posts

- Clicks

- Interactions

- Increase in followers/fans

- Visits from social

- Contacts from social
This can be particularly helpful if you are comparing months side by side, or running a quarterly report.
Compare Platforms Report: This report allows you to compare the success of particular platforms that you have published to. This is extremely helpful, for example, when wanting to measure Facebook and Twitter alongside one another. Similar to the first report, you can select a timeframe in which to display the data, and you are able to filter out channels from the graph to give a unique view. Additionally, information is segmented and broken down into the individual graphs listed numerically above.
Compare Channels Report: Many companies are promoting social posts from a multitude of accounts or groups across different platforms. Here at Smartbug Media, our consultants publish content alongside our company accounts. When this is the case, it is important to be able to report on which accounts or channels are having the most impact. This report shows just that. Using the same types of data, you can now measure which accounts, groups, or pages are performing best and yielding the highest return. Again, this data can be seen in a variety of ways ranging from interactions to contacts generated.
Campaigns Report: Often, social media is done as promotion of a new campaign. In this case, depending on the campaign, different channels or platforms may be used to target a specific audience. Especially when running multiple campaigns at once, comparing each side-by-side can provide great insight. The Campaigns Report provides data associated with all social posts in a specific campaign. To run this report, simply select the campaign you want to analyze, choose a timeframe, and include or filter out any social channels. This will generate a handy report based on all social efforts that have been tagged as that campaign within HubSpot.
Reach Report: The Reach report, although being a part of HubSpot for many years, has been given an upgrade as well. In addition to showing the change in followers over a given timeframe, we can now see how many visits and contacts were generated via social, and how that compares to the previous month. This is a powerful report for any marketing team, especially if there are goals of growing followers and fans.
As you can see, HubSpot has made many great improvements to the reporting functionality within the social media tool. With many different reports available, any marketer can slice the data exactly how they want, providing helpful information to their team as well as upper management. What other social reports would you like to see HubSpot build in?