By Rachel Moore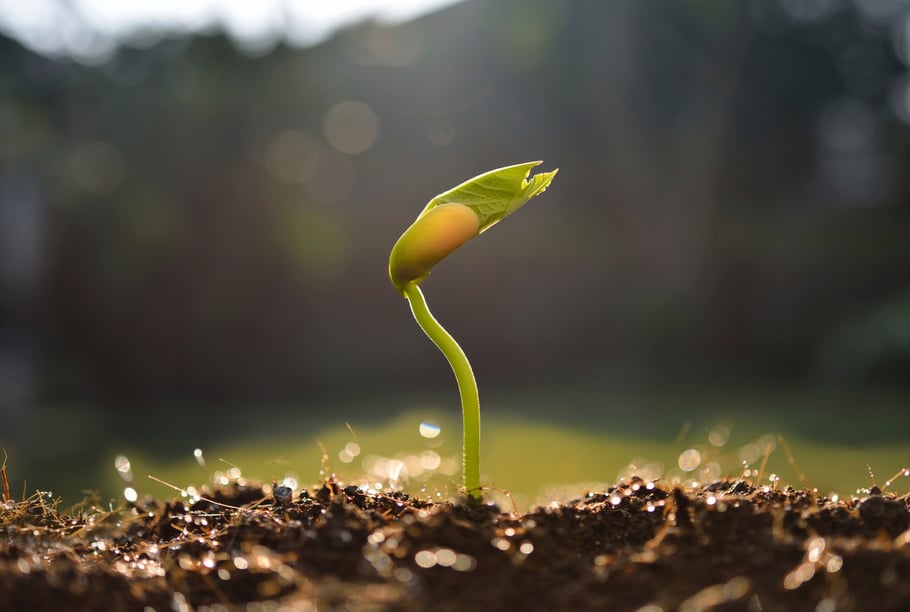 First thing's first: this is not a blog post about keywords. The content strategy tips you'll find here assume you already know up from down when it comes to your keyword strategy.
If you're looking for a guide on how to choose the best keywords to write about or how to create buyer's journey-focused content your personas will care about, check out one of these posts instead:
If you're already writing SEO-optimized persona-focused content that focuses on the right terms, publishing that content on a regular basis, and creating detailed, newsworthy updates that Google's bound to love, the tips listed below provide some ideas on where to go next.
One of the great things about marketing – and inbound in particular – is that there's always something more to do or a new technique to try to help you reach your business goals. If you're interested in getting more organic traffic, here are a few of our favorite (and often neglected or discounted) tips to refine your content strategy and grow your organic search:
1. Develop a steady publishing schedule (and use it).
Publishing content on a regular basis is important for many reasons, but here are my personal top three:
It gives search engines a reason to keep coming back to and crawling your website pages so that any new content you create is quickly indexed and rank-able.
It speaks to the "freshness factor" of your website and indicates to search engines that your pages are up-to-date sources of new information worthy of surfacing to searchers.
In terms of blog content, it complements the idea of blogging as an annuity – something that pays off in dividends over time. The sooner you get started, the sooner the existing posts on your site compound the traffic- (and lead-) generating capabilities of your site: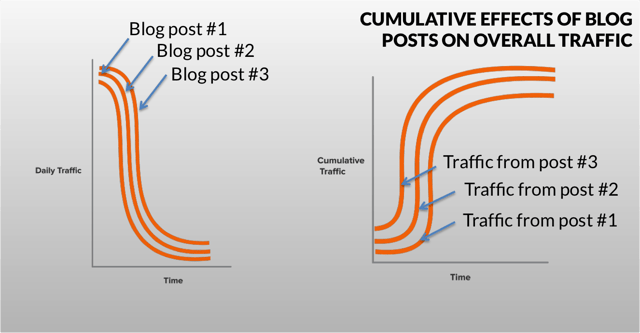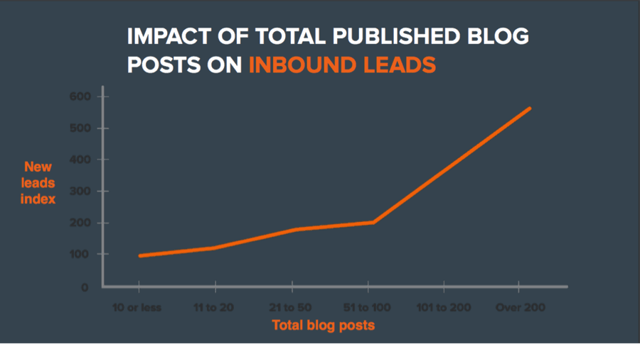 (Source: HubSpot)
Looking at things graphically, it's clear that each existing post on a website draws in more traffic than the last, and that websites with more total blog posts generate more new leads. So what better way to start reaping the cumulative benefits of blogging than by creating content on a regular basis?
2. Use the right anchor text
"Anchor text" refers to the words on a page that are hyperlinked to another website page – and these snippets of copy can have a big impact on how relevant search engines see your page is about a particular topic. If possible, include a page's keyword in the highlighted anchor text. Ideally, that keyword is also relevant for the linked-to page, as well.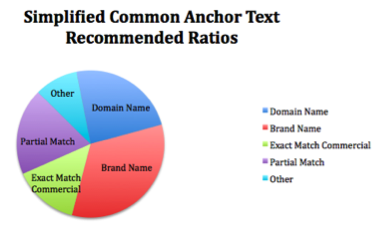 While one of the easiest ways to integrate optimized anchor text into your content is by linking keywords to relevant articles or sources, it's far from the only way to use it. Strong anchor text can also be a phrase that includes the target keyword, a URL, a brand name, or otherwise.
Optimizing anchor text can be a science in itself. For more information on choosing the best anchor text and distributing it within your content (among many other fantastic tips), check out this article on improving Google rankings by the always enlightening Neil Patel.
(Source: Neil Patel)
3. Don't forget about Alt tags
Alt tags, formally known as "alternative attributes of an image tag," are HTML modifiers that provide "descriptive information about the image called in an individual image tag within a page of HTML code" (Source: Practical Ecommerce, 2014).
While we marketers tend to think of Alt tags solely in terms of their SEO value, their original purpose was actually to help impaired visitors determine what was depicted in a particular image. In fact, blind users or individuals viewing text-only versions of your site will still rely on an image's alt text to identify what it is, in fact, an image of.
While organic search-optimized Alt text does usually include the target keyword for the page on which the image appears, it's important not to forget Alt tags' original purpose as a way of improving accessibility. So how can you refine your Alt tag strategy to increase organic search traffic? Focus on writing short tags that are descriptive of the image and its role on the page. More often than not, these tags will include your target keyword or a variation of it.
4. Optimize URLs
The best URLs are short, don't contain many subfolders, contain target keywords that align with on-page keywords, and keep hyphens to a minimum.
Moz's 2015 Search Ranking Factor study presents clear evidence that these factors are negatively correlated with a page's likelihood to rank in Google (correlations rated on a scale from -1.00, meaning the factor has a negative influence, or 1.00, meaning the factor has a positive influence):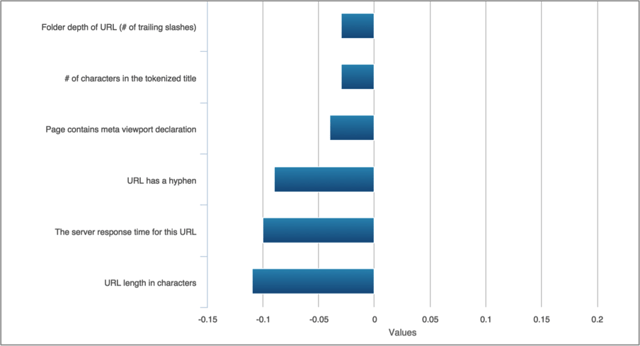 (Source: Moz)
When creating URLs for things like blog posts, resist the urge to simply copy and paste in the article title or use the URL your content management system automatically generates. Instead, see how much you can shorten the post URL by removing unnecessary numbers or words like "the," "a," "and," and so on.
5. Share relevant content on social media
Sharing content on social media isn't just a great way to generate social views to your site; it's also an effective tool for drumming up additional organic traffic, as well. Why? Not only do search engines index and serve up content shared on social media (like the Tweets showing up in a Google search shown below), search engine algorithms see social shares as a strong vote of confidence for the quality of that piece of content (i.e. if content is shared socially, it must be worthy of sharing).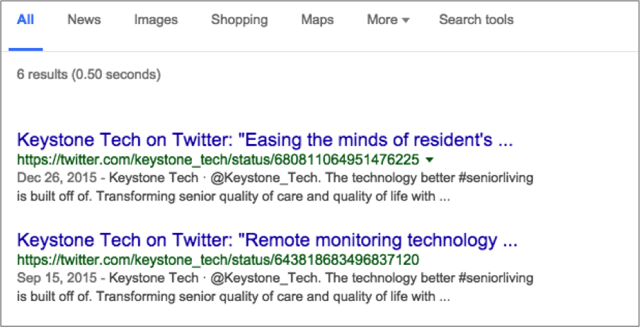 Since search engines are always looking for new and better ways to identify relevant, high-quality content to surface to their users, it's not surprising that they consider shares when deciding how highly to rank a piece of content on their results pages.
6. Don't use super high-resolution images or fancy font sets
Google page load time as a major ranking factor, and very large images or complex font sets can drastically increase how long it takes for a page to render (the same goes for JavaScript snippets or other custom code that may slow things down). To keep your organic search numbers trending up, avoid unnecessarily using these elements if at all possible.
It's worth nothing that slow page load times don't just impact where your pages show up in a search engine – they can even impact real business metrics like revenue, as well: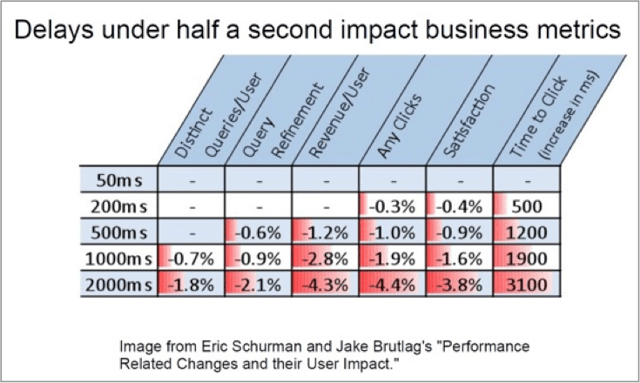 Concerned your site is running a bit sluggishly? Check out this free tool to test your load speed.
7. Build fresh backlinks
Backlinks, also known as incoming or inbound links, are the bread and butter of "off-page SEO" and can have a strong impact on how well your site ranks in organic search. Whether it's by well-placed anchor text paid back in kind, guest blogging, sharing thoughtful content with those likely to share and link to it, or otherwise, link building can be a complex but useful tool to increase the organic search footprint of your content. If you're not already employing a link building strategy as a way to increase organic traffic, there's no time to start like the present.
Here are a few other ideas to help you build inbound links to your pages:
Ask other businesses you have a good relationship with to link to your site where relevant.
Give and/or get testimonials, include links in their attribution.
Participate in forums or discussion boards relevant to your business. While the links posted in these spaces are almost always "nofollow," they can get your site on the radar of people who are active sharers of relevant content (i.e. your website pages) themselves.
Look for your business or product name mentions on other sites that have not yet been linked back to your site. Reach out to the other website and request they link the mention.
Whether it's refining the basics (like publishing content on a regular basis) or trying new tactics (like varying your anchor text strategy), let us know about your experiences with these tips to help increase your organic search.