By Juli Durante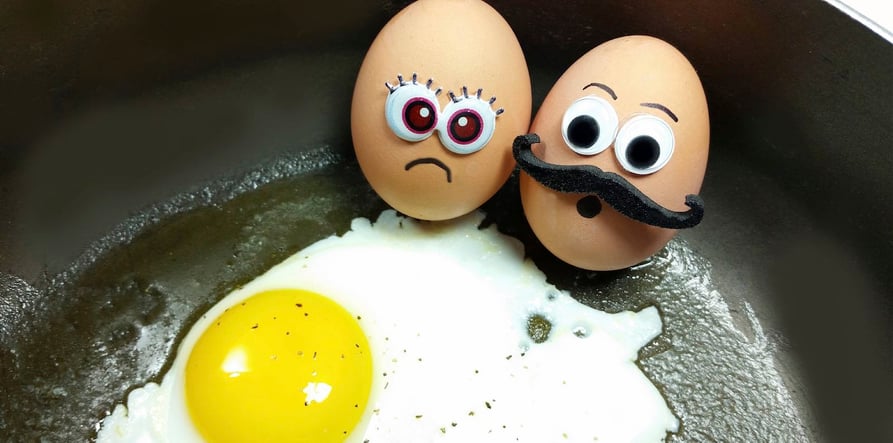 By all accounts, Amy Schumer is on top of her game: her show, Inside Amy Schumer, has been nominated for 10 awards this year alone (and has already won 3 of them), she wrote and starred in the very successful Trainwreck, and her social media game is totally on point. But did you know that Schumer is also an amazing content marketer?
Here are 6 times she totally owned content marketing - and how you can embrace them for your own efforts:
1. When She Was Totally Authentic
If nothing else, Schumer is known for being completely herself, even when that's at odds with the perception of what she "should be." She's bold, outspoken, and a little bit awkward - and her fans love her for it.
For your brand, communicating authentically is just as important as it is for our friend Amy (we're on a first name basis). Every piece of content you produce should use a consistent voice and style and express consistent values. You can't tell customer's you want to save them money one day and raise your prices the next.
Remember, the concept of "authenticity" isn't constructed by you or your brand - it's established by external sources: your customers, fans, followers, and even your detractors. In that respect, you don't have control over what is perceived as authentic for your marketing.
But you can control the content you produce and take steps to ensure it's on target. Here are some best practices:
Nail down your value proposition. If you're clear about why you are in business serving your customers, and the content you produce is aligned with that value proposition, it's easy to stay consistent.
Create brand guidelines. These should cover your visual identity but also include the style and tone of your writing, including examples that epitomize how you want to communicate and a few that are the opposite of your brand.
Own it. If you do something great, celebrate. If you make a mistake, appologize. Although you're a brand, you need to communicate with real human emotions.
2. When She Became a Content-Generating Machine
Although Schumer is an actress, she's best known for the work that she has created or written herself: stand up comedy, television, and film. Like a good content marketer, she knows the value of producing and standing behind her own content (which feeds back into her own authenticity).
Furthermore, she creates content that is highly consumable and repurposable. The sketches on her TV show are pulled apart and uploaded as YouTube clips. She get's gif-ed and shared all over the place.
Do you want to create content like Amy? Here are some steps you can take:
Keep a list of ideas. They don't have to be great ideas, but having some concepts ready to go help you create something new on the fly.
Just try it. The first rule of improv comedy is to agree - to always say yes. If you're not totally sure about the content you're about to create, just try it. While I wouldn't recommend dumping a ton of time into a test topic for an eBook, writing a blog to try out the topic is worth while.
Add something new. So the second half of that first rule of improvisation is to add the conversation. You might have heard of it called the "Yes, and..." rule. If you're creating content that doesn't provide some kind of new information, is it really worthwhile for your audience and personas? You don't have to reinvent the wheel, but as an example, every blog you write should be offering a somewhat different perspective.
3. When She Made Her Fans Love Her (Again and Again)
If you want to see long lasting success, you have to make your fans love you. The charismatic Schumer is a pro when it comes to forming these connections - check out this clip of her (along with Judd Apatow and Glen Handsard) crashing a wedding afterparty to sing with the newlyweds and their wedding party. That's some serious fan-loving right there.

There's a reason why the inbound marketing methodology doesn't end with closing customers: to truly see success and keep bring in new, well-qualified customers and leads, you have to make sure your existing customers and fans really love what you're offering. Here are some tips:
Create customer-first content. Instead of creating content that fulfills business goals first and foremost, create content that meets the needs and demands of your customers. It's not about you, it's about them.
Surprise and delight. Sometimes, you just need to make people smile, even if it's not directly about driving traffic and generating leads. It might mean thanking a loyal customer for a glowing review on social media, sending some company swag on a client's contract anniversary, or sending them a "just because" note. These are the kinds of personalized actions that turn your business relationship into a personalized, loveable one.
4. When She Wasn't Afraid to be Provocative
There are a good number of "provocative" examples from Amy Schumer that I won't be sharing here. Suffice it to say a quick web search will tell you all you need to know, but trust me when I tell you, Schumer isn't afraid to tackle a tough topic. She's proclaimed herself a bold feminist in a field traditionally dominated by men and given taboo topics a smart comic treatment. She isn't afraid to cover what she thinks is important, even if it's not a decision everyone finds popular or agrees with.
There's a big lesson in there content marketers and businesses. If you have a new product or data or concept that goes against the status quo, don't be afraid to show it off. It's a good thing to get people thinking. But we are talking about business, so we understand that you might not want to take it too far. You certainly don't want to outrage your audience! Instead, here are some areas to focus on:
Don't present opinions as facts. Nothing will get an online audience more riled up than this.
Be open minded. When you're only presenting one side or view of a situation, be sure to give readers the opportunity to provide their thoughts and feedback in a safe, respectful way.
Pushing the envelope doesn't have to mean being over the top. Sometimes, being "provocative" isn't about providing extreme, over the top information: it's about producing content that's just a little bit different than what you've done in the past. For example, when Buzzfeed publishes an article with gifs or videos embedded, it's expected, not provocative. If your insurance agency does it? That can be a different story.
Don't forget about your brand. If your brand isn't one that actively seeks to be disruptive, this may not be the right approach for you. Remember point #1, above.
5. When She Embraced Awesome Collabs
Schumer knows when to stand alone and when to collaborate. She's not afraid to work with others to produce the best final product. In fact, the entertainment industry is based on this concept: teams of writers, producers, and actors come together to produce something great. Schumer is constantly mixing the cast of characters around her to do just that. Even on the show that bears her name, Schumer constantly introduces collaborations to enhance content.
Sometimes, content is better when you work with someone who has skills, talents, or experiences that are different from yours. Working with others helps you create content in new and exciting contexts. It can also help you get a little more budget for your biggest plans. Here are some areas to consider a collaborative approach:
A webinar with you and one of your expert partners.
An infographic that draws on data from external sources
A white paper or eBook that combines the knowledge and experience of more than one company.
6. When she Performed at Inbound 15
Is Amy Schumer the ultimate content marketer? Maybe - she performed at Inbound Rocks at this year's Inbound conference in Boston and surrounded herself with the best and brightest inbound marketers out there, solidifying her place in our hearts.