By Amber Kemmis
2015 was a big year for marketers. We saw a resurgance of GIFs, a rise in paid social as a result of unfavorable algorithms, and, we can't forget to mention Mobilegeddon. Like previous years, the 2015 State of Inbound report from HubSpot revealed even more insights as to what's big in marketing right now. The report, which can be downloaded here, covers a lot of great marketing and sales insights, but we'll focus here on one key tool - marketing automation.
Being a marketer in today's digital landscape means that we face more touchpoints and data with customers than ever before, which is great when used to our advantage. But, using it to our advantage is hard work and can be a nearly impossible feat without the right tools. Marketing automation helps to do the hard work for marketing, but, even more importantly, it makes marketing campaigns more effective, and the 2015 State of Inbound agrees. But, is marketing automation the holy grail or does it have the potential to fail? Let's dive deeper into the data to find out.
1. Greater ROI with marketing automation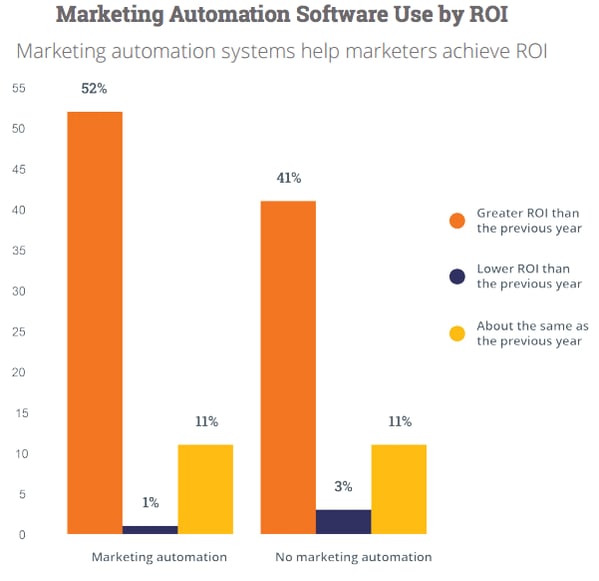 It shouldn't come as too big of a surprise that marketers who are armed with tools that automate pieces of their jobs are more likely to achieve greater ROI than the previous year. The not-so-suprising finding is that the spread between marketing automation users and non-users is only 11 percent. Why is this? Although the report doesn't provide inclinications, we do know that there's a significant talent gap in digital skills, which may explain a lot.
Predictions show that the US will lack 1.5 million managers and analysts with adequate digital and technical skills to make effective and strategic decisions by 2018. So, while many companies have invested in marketing automation, they may not necessarily have the talent to capitalize on the technology. Thus, what is a 11 percent spread beween marketing automation use and non-use might actually be more like 50 percent.
This lack of talent is further emphasized by the 2014 State of Digital Marketing Talent. According to the survey, about 50 percent of executives find marketing automation skills important to have, but only 30 percent say they have the in-house strengths to fill the skills. What can marketing teams do if they have a talent gap in marketing automation? Well, they can hire from a small pool, partner with an agency or grow their in-house knowledge. Whatever strategy is right for your marketing effots just ensure that you don't put the cart before the horse. Marketing automation does not equal higher ROI on its' own, but it can reap its' benefits if you have the talent to properly implement it.
2. Higher budgets among marketing automation users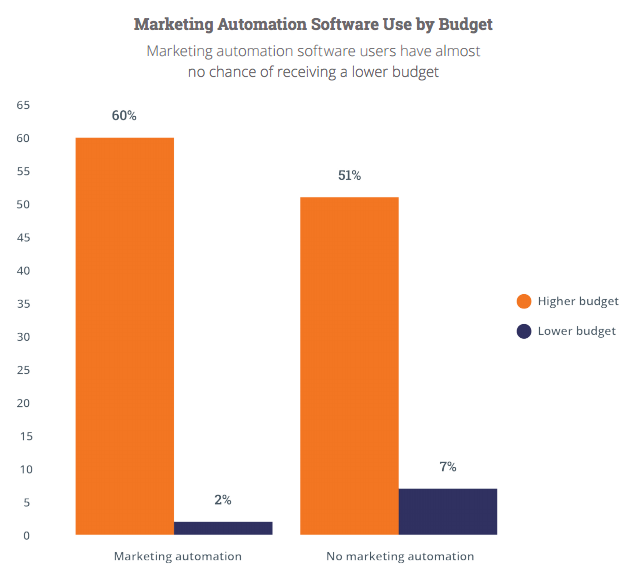 The State of Inbound also examined the chances of receiving a higher and lower budget among marketing automation users and non-users. Sixty percent of marketing automation users say they expect to have a higher budget while 51 percent of non-marketing automation users expect to see a higher budget. Again, a small spread, but this is likely a result of overall digital marketing budgets growing.
According to Gartner's CMO Spend Survey 2015-2016, 64 percent of respondants rank digital commerce (the ultimate form of marketing automation, in my opinion, because it shortens the buying cycle) in their top 5 priorities for technology investment. It seems, then, that with growing budgets for digital commerce and marketing automation overall, a higher budget can be expected whether or not you utilize marketing automation. But, and this is a big but (stop singing Sir Mix-A-Lot), there is likely a better chance of a higher budget and a smaller chance of a lower budget for marketers using marketing automation software.
The big takeaways
The State of Inbound's findings on marketing automation give us insight into technology's impact on ROI and budgets - but as you've seen with the supporting research and explantions shared above, marketing automation is a catch-22. Here's what you can take away:
Marketing automation use is more common among marketers who achieve hgher ROI, but the rate of achievement would likely be higher without a digital talent gap.
Budgets are more likely to be higher among marketing automation users, but a small spread between users and non-users indicates this is a by-product of overall growing budgets for digital inititatives. However, an overall growth in investments for digital means that marketers can ensure they don't receive a lower budget by employing marketing automation and other digital tools.
For marketers in any industry, marketing automation can be a holy grail - but it takes talent and, of course, a growing budget to use it effectively.
Would you like more more insights from the 2015 State of Inbound? Keep reading our blog!